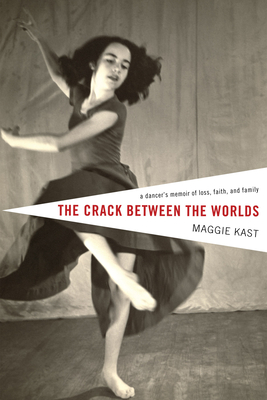 The Crack Between the Worlds
A Dancer's Memoir of Loss and Faith
Paperback

* Individual store prices may vary.
Other Editions of This Title:
Hardcover (8/1/2009)
Description
Synopsis: A car crashes, and Maggie Kast, at the peak of a modern dance career, loses a three-year-old daughter. Raised without religion and now mired in grief, she senses a persistent connection to the little girl, a love somehow more powerful than the brute fact of death. This awareness leads her, over three years, to the Catholic Church. After the accident, her marriage is greatly stressed by the entrance of religion into married life, and she and her husband each accuse the other of being too religious or too secular at various times. Despite conflict, dialogue keeps the marriage intimate and vital. Following study of liturgy at Catholic Theological Union, she teaches and tours sacred dance nationally and internationally, exploring the arts as a spiritual path. Moving forward and looking back at once, she discovers early hints of religious experience in childhood celebrations, encounters with art, and marriage. Her husband dies. Now a single parent of a ten-year-old and a developmentally disabled teenager, as well as college-aged sons, she continues her search. Endorsements: "In prose that is spare, lucid, and elegiac, Maggie Kast's memoir, The Crack Between the Worlds, tells the story of a pilgrimage and a conversion. A dancer and choreographer, Kast knows that the most expressive gestures-and words-are often the simplest, rooted in the dailiness of our lives. Her search for a faith that can embrace both the tragic sense of life and the ecstatic sacramentality of ordinary matter leads her inexorably to the church whose name means 'universal.' Readers will find in Kast's particular story something universal, moving, and true." -Gregory Wolfe, Editor, Image "Maggie Kast's memoir is a rich, powerful, affecting story of how even in tragedy grace can be found. She has written a book that will be a consolation and resource for many." -Ron Hansen, author of Mariette in Ecstasy and Exiles "The Crack Between the Worlds is a graceful, deeply-felt spiritual memoir. Dancer and choreographer Maggie Kast moves through the hidden alcoves of her heart to reflect on a life of love and tragedy, and in that sacred space she finds mystery, faith, and healing gestures." -Dinty W. Moore, author of The Accidental Buddhist "From the first lines, Maggie Kast's world of faith and doubt, of death and life, of heart-breaking losses and profound joys totally engages and often challenges the reader. Her writing is luminous. Her style is graceful and spare-perhaps imitating the way she dances and the feelings she evokes in those who, watching her, know that their own experience has just been mirrored back to them with new meaning, with purpose, even with hope. This is a wonderful book." -Kathleen Hughes, R.S.C.J., Mission Consultant for the Network of Sacred Heart Schools "As with her dancing and choreography, Maggie Kast's writing is powerfully infused with an intense spirituality and a detailed, eloquent expression of the rhythms of human life, in all their joys and sorrows. This is her very personal story; it will embrace and move everyone who reads it." -Richard Christiansen, Chief Critic emeritus, Chicago Tribune Author Biography: Following a lifetime career in concert and liturgical dance, Maggie Kast received an MFA in writing from Vermont College of Fine Arts. She has published essays in America, Image Journal, Contact Quarterly and Writer's Chronicle and fiction in The Sun, Nimrod International, Rosebud, and others. She teaches Writing and Rhetoric part-time at Columbia College Chicago.
Resource Publications (OR), 9781606087770, 232pp.
Publication Date: August 1, 2009