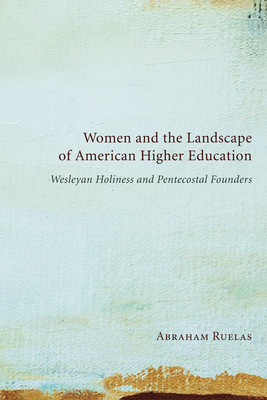 Women and the Landscape of American Higher Education
Paperback

* Individual store prices may vary.
Other Editions of This Title:
Hardcover (6/1/2010)
Description
The post-millennial vision of nineteenth century America led to greater educational opportunities for women, but these were focused on women's domestic efficacy in developing ""messianic mothers"" to help create the kingdom of God on earth. Yet, by embracing the doctrine of sanctification, Wesleyan Holiness women were able to move from ""women's sphere"" (domesticity) to the public sphere (public ministry), which they had come to see as their intended place. Not only did they make this shift for themselves, but they created Christian institutions of higher education that provided opportunities for both women and men to prepare for public ministry. At the beginning of the twentieth century, a new force would enable women to further demonstrate their equality in the work of the Lord. In 1901, the Pentecostal movement was ushered in when Agnes Nevada Ozman became the first person in the modern era to speak in tongues. This movement saw the promise and fulfillment of equal empowerment of men and women for service by the Holy Spirit, which sent individuals throughout the world to further the kingdom of God. As the theological shift from a postmillennial to a premillennial view occurred, opportunity became necessity as priority was given to the creation of schools to prepare ministers to reach lost souls before the return of Jesus. The founding of such schools was pioneered by Wesleyan Holiness and Pentecostal women who carried the torch as their movement grew into the twentieth century. This book compiles the inspiring stories of some of the most notable women who, from society's perspective stepped outside established roles to claim a significant place in the history of American higher education. ""Abraham Ruelas has made an important contribution to recovery of long-forgotten but vital contributions Wesleyan Holiness and Pentecostal women have made to one of the most important religious movements of the last three centuries. His narrative takes us into the formerly little-explored area of women's involvement in shaping institutions that often trained the very men who denied them equal access to most arenas of ministry. Reulas is a welcomed comrade, whose work inspires Holiness or Pentecostal woman scholars who struggle to serve and forge a viable place for our intellectual gifts within the life of the institutions we love."" --Estrelda Alexander Professor of Theology Regent University School of Divinity ""In an age when a woman has made a close run for U.S. President and another for Vice-President; when three women have served their country as Secretary of State and three have served or serve on the U.S. Supreme Court and another has just been nominated, it seems incredible that women are still greatly under-represented in the leadership of Holiness and Pentecostal colleges, universities, and seminaries. What accounts for this dearth is left to another study. Dr. Ruelas has, however, provided a very helpful challenge to this present reality by looking at the past origins of higher education in the Holiness and Pentecostal traditions, a past that was dominated by the innovation and leadership of dedicated women of faith and vision."" --Kimberly Ervin Alexander Associate Professor of Historical Theology Assistant Dean of Student Academics and Assessment Pentecostal Theological Seminary Abraham Ruelas is Chair of the Behavioral Sciences Division and Chair and Professor of Communications at Patten University.
Pickwick Publications, 9781606088692, 166pp.
Publication Date: June 1, 2010