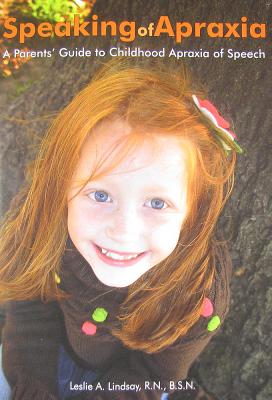 Speaking of Apraxia
A Parents' Guide to Childhood Apraxia of Speech
Paperback

* Individual store prices may vary.
Other Editions of This Title:
Digital Audiobook (7/5/2021)
Paperback (12/11/2020)
Description
At last, a parents' guide to understanding, treating, and living with childhood apraxia of speech (CAS). Written in an empathic style by a parent who has been there, this book offers hope and practical advice for parents of toddlers to teens with this neurologically-based motor speech disorder. Characterised by difficulties with planning and producing the complex set of movements necessary for intelligible speech, CAS can be a child's only diagnosis or can be accompanied by other special needs such as learning disabilities, Down syndrome, or autism. Parents and professionals will appreciate the author's clear explanations of everything from diagnosing CAS and working with speech-language pathologists (SLPs), to understanding how to distinguish it from other speech disorders, and getting appropriate early intervention and special education support. Drawing on the latest research, professionals' insights and her own and other parents' experience, the author covers these important topics: I: The Straight Scoop on Speech Basics -- CAS definition; An Overview of Speech & Language; Where to Get Help and What to Ask; Your First Appointment with an SLP. II: Now What? -- Getting, Coping with, and Understanding the Diagnosis; Health & Genetics; All about Speech Therapy. III: Helping Your Child -- Complementary and Alternative Medical and Treatment Approaches (Diet, Music, Movement Therapy, and More). IV: Off to School -- Getting Ready; Special Education Ins & Outs; Phonological Awareness; Reading Issues. V: Coping & Hoping -- Dealing with Emotions and Family Life; What the Future May Hold; Networking, Support Groups, and Advocacy. Appendices: Information on insurance, summer camps and enrichment programs, speech language milestones, and a glossary of terms. This is a comprehensive and authoritative resource any family, SLP, occupational therapist, or paediatric practice will be glad to own or recommend.
Woodbine House, 9781606130612, 448pp.
Publication Date: March 16, 2012
or
Not Currently Available for Direct Purchase