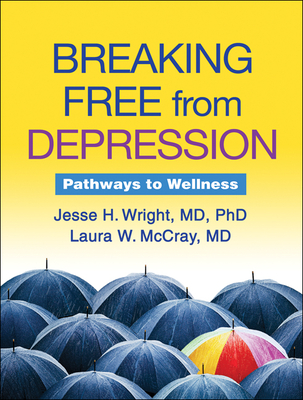 Breaking Free from Depression (Paperback)
Pathways to Wellness (Guilford Self-Help Workbook)
Guilford Publications, 9781606239193, 372pp.
Publication Date: October 24, 2011
Description
Leading psychiatrist/researcher Jesse Wright and his daughter Laura McCray, a family physician, have seen thousands of depressed patients in their practices -- and have learned that a range of different treatments work. Infused with warmth, optimism, and clinical know-how, this book presents simple yet powerful depression-fighting strategies that sufferers can try on their own. Drs. Wright and McCray offer a flexible menu of treatment ideas plus clear guidance for creating a personalized anti-depression action plan. Aided by helpful worksheets, quizzes, and stories, readers learn ways to break the cycle of negative thinking, restore energy and a sense of well-being, strengthen relationships, and make informed decisions about medications. Now depression sufferers can chart their own path to recovery, using the best tools science has to offer.
About the Author
Jesse H. Wright, MD, PhD, is Professor of Psychiatry and Director of the Depression Center at the University of Louisville. A well-known authority on depression and cognitive-behavior therapy, he is the author of award-winning books for both the general public and professionals. Dr. Wright was Founding President of the Academy of Cognitive Therapy, is a Fellow of the American College of Psychiatrists, and received the Distinguished Educator of the Year Award from the University of Louisville. Laura W. McCray, MD, practices family medicine in Burlington, Vermont, with a focus on mental health in primary care. She is Clinical Assistant Professor of Family Medicine and Associate Director of the Family Medicine Residency Program at the University of Vermont. A recipient of four Family Medicine Teaching Awards from the University of Pennsylvania and the University of Vermont, Dr. McCray lives in rural Vermont with her husband and young son. She is very pleased to be collaborating with her father on this book.
Praise For Breaking Free from Depression: Pathways to Wellness (Guilford Self-Help Workbook)…
"This valuable book provides clear pathways for overcoming depression. It can be helpful to anybody experiencing depression, whether mild or severe. The authors are both experts in the field."--Aaron T. Beck, MD, developer of cognitive therapy

"A 'must-have' for finding a way through the pain of depression. Drs. Wright and McCray draw on their skill and wisdom to provide a comprehensive map. You'll learn about different types of depression, how to find the treatment approach that fits best, and how to integrate it seamlessly into daily life. This book provides just what you need to move forward with hope."--Mark Williams, PhD, coauthor of The Mindful Way through Depression 

"An accessible guide for individuals who are struggling to understand depression....Provides important information to those directly and indirectly affected by the confusing and painful symptoms of depressive illness."--Kay Redfield Jamison, PhD, author of An Unquiet Mind and Nothing Was the Same

"This invaluable guide, written by a psychiatrist and a family doctor, is unique in its balanced coverage of psychotherapy, medication, and other treatments for depression. It is clearly written and chock-full of tips and resources. If you suffer from depression, this is the best single book I've seen for you and your family."--Michael E. Thase, MD, coauthor of Beating the Blues 

"Drs. Wright and McCray have done something remarkable, even unprecedented. They have taken all of the best self-management strategies for depression and translated them into materials you can use to support your own recovery. This is the first resource of its kind--and it can help you deal successfully with depression."--Frank Verloin deGruy III, MD, Chair, Department of Family Medicine, University of Colorado School of Medicine

"Wright and McCray have compiled a wealth of information about depression--its causes, treatment, and how sufferers can contribute to their own recovery. Drawing on elements of all the proven treatments for depression, the book provides clear guidance and practical steps for those experiencing depression as well as their friends and family members. Because the book is organized in relatively brief but cohesive chapters, readers really can take the one-step-at-a-time approach to resolving depression that Wright and McCray recommend."--Ellen Frank, PhD, Distinguished Professor of Psychiatry and Professor of Psychology, University of Pittsburgh School of Medicine

"This book gave me hope, understanding, and just the right kind of practical help that I need. I really like how it integrates multiple strategies to combat depression."--T. H.

"Depression, the ''common cold'' of mental illness, is a complex problem. To help those afflicted with this debilitating illness, the father-and-daughter team of Wright...and McCray...have written a holistic work that provides sufferers with guidance on how to navigate through the slough of despair....Readers will undoubtedly glean practical self-management strategies, and they can implement those most helpful to them. This resource is packed with worksheets, charts, logs, exercises, checklists, and illustrations....This balanced and responsibly eclectic guide will benefit treatment seekers."--Library Journal
Advertisement