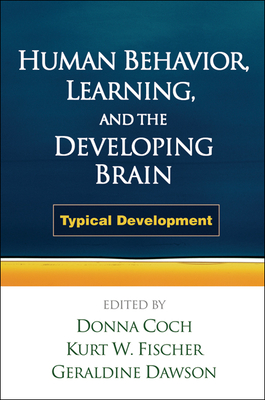 Human Behavior, Learning, and the Developing Brain (Paperback)
Typical Development
The Guilford Press, 9781606239681, 412pp.
Publication Date: June 15, 2010
Other Editions of This Title:
Paperback (6/15/2010)
Hardcover (2/1/2007)
Hardcover (4/24/2007)
* Individual store prices may vary.
Description
This volume brings together leading authorities from multiple disciplines to examine the relationship between brain development and behavior in typically developing children. Presented are innovative cross-sectional and longitudinal studies that shed light on brain–behavior connections in infancy and toddlerhood through adolescence. Chapters explore the complex interplay of neurobiological and environmental influences in the development of memory, language, reading, inhibitory control, and other core aspects of cognitive, emotional, and social functioning. Throughout, the volume gives particular attention to what the research reveals about ways to support learning and healthy development in all children. Illustrations include four pages in full color.
About the Author
Donna Coch, EdD, is Assistant Professor in the Department of Education at Dartmouth College. She earned a doctoral degree from the Harvard University Graduate School of Education and conducted postdoctoral research at the University of Oregon. Dr. Coch's research focuses on what happens in the brain as children learn how to read, particularly in terms of phonological and orthographic processing. A goal of both her research and teaching is to make meaningful connections between the fields of developmental cognitive neuroscience and education.
Kurt W. Fischer, PhD, is Charles Bigelow Professor of Education and Human Development at the Harvard University Graduate School of Education and founder and director of the program in Mind, Brain, and Education. He studies cognitive and emotional development from birth through adulthood, combining analysis of the commonalities across people with the diversity of pathways of learning and development. Dr. Fischer is the author of several books and over 200 scientific articles, and is founding president of the International Mind, Brain, and Education Society and editor of its journal Mind, Brain, and Education.
Geraldine Dawson, PhD, is Professor of Psychiatry and Behavioral Sciences in the School of Medicine at Duke University and founding Director of the Duke Center for Autism Diagnosis and Treatment. A clinical psychologist and award-winning researcher, Dr. Dawson has published more than 200 articles and chapters and 9 books on early detection and treatment of autism and brain development. With Sally J. Rogers, she developed the Early Start Denver Model, the first empirically validated comprehensive intervention for toddlers with autism. She served as the first Chief Science Officer for Autism Speaks, the largest autism science and advocacy organization. Before joining the Duke faculty, Dr. Dawson served as Research Professor of Psychiatry at the University of North Carolina, Chapel Hill, and, prior to that, as Professor of Psychology at the University of Washington and Founding Director of the University of Washington Autism Center. A Fellow of the American Psychological Society and the American Psychological Association, Dr. Dawson is a recipient of the Lifetime Achievement Award from the Association for Psychological Science and awards for Valuable Service and Research Contributions from the Autism Society of America. Her books include the coauthored Early Start Denver Model for Young Children with Autism, An Early Start for Your Child with Autism and A Parent's Guide to Asperger Syndrome and High-Functioning Autism.
 
Praise For Human Behavior, Learning, and the Developing Brain: Typical Development…
"The development of brain networks underlying thought, feelings, and behavior has become the basis for understanding important landmarks in the complex transition from infancy to adulthood. This book provides expert guidance on what is known--and what remains to be learned--about both the mechanisms common to all humans and the differences that form the basis of individuality."--Michael I. Posner, PhD, Department of Psychology (Emeritus), University of Oregon
"Contemporary research on the relationship between brain development and behavior requires us to become familiar not only with the developing brain and behavior change, but also with the cultural organization of experience that, together, create the special nature of human beings. This carefully organized book provides an outstanding summary of the state of this complex, important topic. Important reading for all students of human development."--Michael Cole, PhD, Departments of Psychology and Communication, University of California, San Diego
"These twin volumes beautifully document how much recent progress there has been in the new field of developmental cognitive neuroscience. Presenting a very clear exposition of the close links between typical and atypical development at multiple levels of analysis, the books will be of value to anyone who studies human development or applies developmental knowledge."--Bruce F. Pennington, PhD, Distinguished University Professor of Psychology, University of Denver
"It is exceedingly difficult to keep up with the rapidly changing area of human cognitive development, learning, and the brain. Now, in this pair of volumes, leading contributors summarize our current understanding of normal and atypical development across the cognitive and emotional spectrum. These volumes will sit near many desks, including mine."--Howard Gardner, PhD, Harvard Graduate School of Education
"Chapters are rich in content and well organized."
— The New England Journal of Medicine
"An insightful, data-driven book connecting the fields of brain development, cognitive processing, and behavioral science....The book is well organized and user-friendly....A highlight of the book is a three-page section of small, but impressive, colored pictures of magnetic resonance imaging results detailing brain regions and correlated functions, different development changes coinciding with learning, and brain activation during auditory and visual tasks....Moreover, most chapter authors include basic descriptions and definitions of concepts from developmental neuropsychology, as well as describe neuroimaging techniques. This makes the book challenging and appropriate for graduate students who are interested in the neurosciences but who have had limited training in neuropsychology. Overall, the scope of the content covered in the volume is broad rather than narrow, promoting a foundational knowledge base for those interested in the importance of an interdisciplinary approach to educational neuroscience....The book provides an important service to researchers, detailing the need for future study of this potentially imperative connection between the sciences....This volume is a great starting point for future research."
— Archives of Clinical Neuropsychology
"This book provides a good account of research into the developing brain, covering infancy, childhood and adolescence, and presenting data from a range of experimental methods....Important issues regarding functional specialization of the brain and the relationship between learning and development are well discussed. This book would thus be a useful reference for students in the field of atypical human development and learning."
— Child and Adolescent Mental Health Journal
"Very recent and continuing developments within the field of neuroscience now have a secure conduit which assures their accessibility to developmental psychologists and education professionals....The text is very tightly referenced, with great care taken to demonstrate the evidence bases used to inform theory development and conclusions, and cautious and well-supported lines of argument applying the knowledge derived from research to inform implications for educational practices. Argument is therefore balanced and credible....The chapters can be read independently, each reading as a comprehensive, in-depth review of recent research literature, rich and dense in information and extremely well organised. To differing degrees, the authors draw upon their own research, but in all cases retain balance....All chapters are very readable, unfolding like good detective stories....I would commend this book most strongly as a balanced and authoritative reference text, capable of informing sensitive understanding of children's functioning and developments of educational practice."
— Educational Review
or
Not Currently Available for Direct Purchase