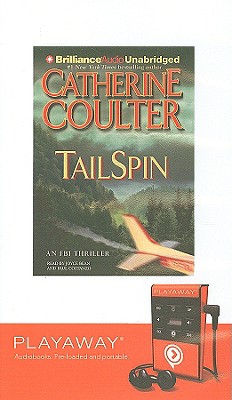 TailSpin [With Earbuds] (Playaway Adult Fiction) (Pre-Recorded Audio Player)
Findaway World, 9781606409022
Publication Date: December 1, 2008
Other Editions of This Title:
Mass Market (7/7/2009)
Paperback, Large Print (7/1/2009)
Hardcover (6/24/2008)
MP3 CD (5/20/2014)
MP3 CD, Abridged (12/1/2012)
Compact Disc (12/1/2012)
* Individual store prices may vary.
Description
FBI Special Agent Jackson Crowne is flying renowned psychiatrist Dr. Timothy MacLean back to Washington, D.C., to protect him and discover whoa (TM)s trying to kill him. But they dona (TM)t make it. That same morning, agents Savich and Sherlock are told about Agent Crownea (TM)s Mayday sent from deep in the Appalachian mountains near Parlow, Kentucky. Within thirty minutes, Savich and Sherlock are aboard an FBI helicopter, headed for Parlow. Agent Crowne barely manages to bring his Cessna down in the narrow Cudlow Valley and haul the unconscious Dr. MacLean from the burning wreckage before it explodes.
Their crash is witnessed by Rachael Abbott, a young woman who has just narrowly escaped drowning by assailants who drugged her, tied her to a cement block, and threw her into Black Rock Lake. When Savich and Sherlock arrive in Parlow, they discover Jack is down but not out, that Rachael saved his and Dr. MacLeana (TM)s lives, and that shea (TM)s hiding something big. To add to the complexity of the situation, Dr. MacLean has been diagnosed with frontal lobe dementia, a pernicious disease that makes the victim say whatever comes to mind with no regard to consequences. With a patient list of Washingtona (TM)s elite movers and shakers, MacLean has almost certainly compromised doctor-patient confidentiality, and one of his patients, they presume, is out to shut him up. But which one, and why?

or
Not Currently Available for Direct Purchase