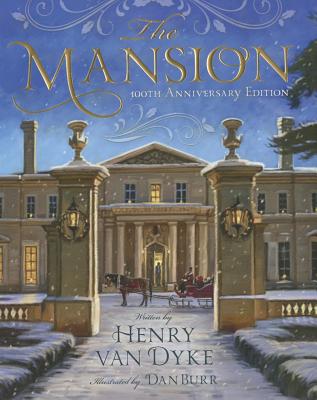 The Mansion
100th Anniversary Edition
Hardcover

* Individual store prices may vary.
Other Editions of This Title:
Paperback (3/29/2013)
Paperback (3/15/2007)
Hardcover (10/11/2018)
Paperback (7/19/2003)
Paperback (10/13/2018)
Hardcover (10/2/2018)
Paperback (12/4/2019)
Paperback (9/25/2011)
Paperback (10/11/2018)
Paperback (11/19/2012)
Hardcover (10/12/2018)
Paperback (10/26/2018)
Paperback (12/13/2012)
Hardcover (8/8/2015)
Hardcover (10/13/2018)
Hardcover (8/8/2015)
Paperback (4/18/2008)
Paperback (10/2/2018)
Description
John Weightman wanted the best of everything. He surrounded himself with beauty and riches, and was very careful with how he spent his money. No pennies in beggars hats, he liked to say. Until one night he dreamed that he died . . .
Finding himself with a group of travelers dressed in white, John joins them on their journey to the Celestial City where each individual will be rewarded with a mansion based on treasures set aside. Thinking that his mansion will be the most grand, John Weightman learns what it truly means to lay up treasures in heaven.
Shadow Mountain, 9781606418451, 1pp.
Publication Date: October 12, 2011
About the Author
Henry Jackson Van Dyke was born in Germantown, Pennsylvania, in 1852, the son of a prominent Presbyterian minister and his wife. After graduating from Princeton University and Princeton Theological Seminary, van Dyke served as a university lecturer, a minister, and ambassador for the United States to the Netherlands and Luxemburg, and a chaplain in the U.S. Naval Reserve. A prolific and world-renowned writer and poet, van Dyke drew from his love of nature and religion to eloquently express his thoughts on the beauty of the outdoors, the nobility of mankind, and the need for righteousness to be preserved. He passed away at the age of eighty in Princeton, New Jersey, with his wife, Ellen, and several of his nine children at his bedside.Dan Burr, an award-winning illustrator, earned a bachelor of fine arts degree from Utah State University and a master s degree in illustration from Syracuse University. He and his wife, Patti, are the parents of two children and live in Tetonia, Idaho. Dan has illustrated many children s books, including "The Miracle of the Wooden Shoes, I Heard the Bells on Christmas Day, "and "The Christmas Train.""