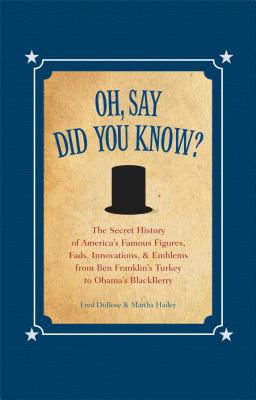 Oh, Say Did You Know? (Hardcover)
The Secret History of America's Famous Figures, Fads, Innovations & Emblems, from Ben Franklin's Turkey to Obama's Bla
Reader's Digest Association, 9781606520352, 174pp.
Publication Date: September 3, 2009
* Individual store prices may vary.
Description
With wit and charm, Oh Say Did You Know serves up 300 intriguing events and ideas that helped shape the United States. Gain valuable insight into the intricacies of every period of American history, from colonial days to the historic election of the first African American president. Five chapters cover a variety of topics, including government, politics, economy, commerce, science, education, innovation, medicine, daily life, and arts and entertainment. Myth-debunking sidebars and fun tidbits about lesser-known historical figures are dispersed throughout the book, along with lists such as "Cup o'Canary, Wench " (long-forgotten drinks serves in colonial taverns) and "America's Ten Highest-Grossing Movies" (from Gone With the Wind to Snow White and the Seven Dwarfs). Whether you're a history buff or a lover of miscellany, you won't be able to get enough of these fascinating anecdotes. You'll find engaging tales and facts, including these examples: *"Gambling in the Colonies"-Gambling was a fact of life in early America, and the governments of all 13 colonies used lotteries to help finance road building and numerous other public projects. *"The Costly Epizootic of 1872"-Less than a decade after the Civil War, a fast- moving equine influenza swept down from Canada into the United States, crippled virtually all of the nation's horses, and left the economy in ruins. *DIDN'T HAPPEN sidebar: "Betsy Ross's Flagging Reputation"-Sheer hearsay put Betsy Ross into history books as the person who designed the American flag. The more likely designer was Francis Hopkinson, a signer of the Declaration of Independence. *OUR NATIVE TONGUE sidebar: "Atomic Slang"-Words and terms coined in the early years include go ballistic, more bang for the buck, blast (a great party) and bombed (seriously inebriated). REVIEW.
or
Not Currently Available for Direct Purchase