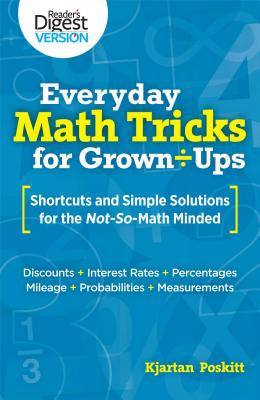 Everyday Math Tricks for Grown-Ups (Paperback)
Shortcuts and Simple Solutions for the Not-So-Math Minded
Reader's Digest Association, 9781606523292, 175pp.
Publication Date: August 4, 2011
* Individual store prices may vary.
Description
For all you adults out there who still secretly count on your fingers (and toes) or are hopeless without (or maybe even with) a calculator, this is the book for you. Does the thought of doing even the simplest of calculations put your stomach in a knot? Do you know how to quickly figure out the discount on that 15 percent off rack? Are you able to calculate your gas mileage or the cost per pound of a bunch of grapes? Imagine how much easier your life would be if you had a few easy-to-remember ways to deal with all of the math challenges you face each and every day. Everyday Math Tricks for Grown-Ups will show you how. Don't worry, this isn't the mind-numbingly boring math textbook you vaguely remember from your dreary schooldays. Lively text and simple examples illustrate all the basics-addition, subtraction, multiplication, and division-and even gets into some more advanced topics such as ratios, decimals, powers, and roots. You'll find yourself dipping in and out often whenever you need to brush up. This book promises to provide many eureka moments as a light bulb goes off when you finally grasp concepts that may have mystified you up until now. And along the way, reading about even the most boring of concepts will provide you with a few good laughs. As you will soon discover, this book will make everyday math problems as easy as pi.