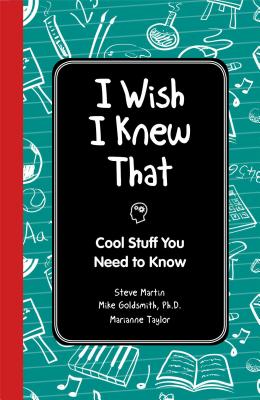 I Wish I Knew That
Cool Stuff You Need to Know
Hardcover

* Individual store prices may vary.
Other Editions of This Title:
Paperback (5/1/2017)
Description
An Apple a Day Keeps the Low Marks Away
Have you ever been excited to find out you knew something the other kids in your class didn't? Then just think about how you would feel if you knew hundreds of fascinating tidbits-on everything from art, literature, and history to geography, science, and math-from just one quick-and-easy read crammed with fun and cool stuff you shouldn't have to wait to find out about. With
I Wish I Knew That
you will speed through science, whiz through history, and take a dip into the classic Greek and Roman myths in no time at all. Inside, learn all about...
Classic Reads: A guide to classic children's literature such as Call of The Wild, Anne of Green Gables, The Wind in The Willows, Little Women and Shakespeare.
How Land is Shaped and Changed: Erosion, Glaciers, Volcanoes and the world's tallest mountain, largest sea, and longest river.
Math Stuff: Jump Into Geometry by learning that the three points of a triangle, whose angles always add up to 180 make measuring more precise.
Science at a Glance: The Periodic table which was invented by Dmitri Mendeleyev and beginners' Biology
History Stuff: Early explorers, important wars, all the Presidents and British Kings and Queens as well as the names of the countries and their capital cities.
Bonus sections include Poet's Corner, Brief History of Music, The World Of Art and Geological Time, In Brief
With
I Wish I Knew That
you'll boost your general knowledge and jump to the head of the class.
Reader's Digest Juvenile, 9781606523407, 143pp.
Publication Date: May 12, 2011
About the Author
Steve Martin attended Birmingham City University, where he earned a degree in English. Since then, he has worked in education, including 15 years' teaching English in prisons. He currently lives in Rutland, a rural area in the English Midlands with his wife and two young sons. I Wish I Knew That is his third children's non-fiction books, the previous two being The Boys' Book 3 and The Boys' Book of Adventure. He is currently working on a series of modern fairy stories for younger children. Marianne Taylor grew up on the south coast of England, and from an early age developed an interest in science and natural history. She has a BSc in biological psychology from Sheffield University and became a freelance writer and editor in 2007. Since then, she has written several books, mostly on natural history subjects, and lives in Kent, England. Mike Goldsmith, Ph.D., studied astrophysics at Keele University, where he earned his PhD, and is a freelance research scientist. He has written several books for children and lives in Teddington in England.
or
Not Currently Available for Direct Purchase