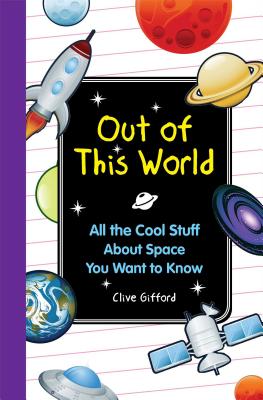 Out of This World (Hardcover)
All the Cool Stuff about Space You Want to Know
Reader's Digest Juvenile, 9781606525197, 143pp.
Publication Date: September 27, 2012
* Individual store prices may vary.
Description
Out of Space explores lots of cool stuff about space you want to know--information on meteors, stars, galaxies and our own Earth and Moon. Are you baffled by the Big Bang? Curious about what it's like to walk on the moon? Wondering if someday you might meet an alien? Dreaming of becoming an astronaut? This fun, comprehensive book is bursting with all the cool things you ever wanted to know about space. In Out of Space you will discover . . . - The Earth, the Moon, and in Between--From the birth of our planet and its fascinating blueprint to its amazing atmosphere and our nearest neighbor, the moon - Earth's Neighborhood--From the eight planets in our solar system and the characteristics that set them apart to the mystifying facts about comets and meteoroids. - Seething Stars and Giant Galaxies--From the life of the star and its various sizes and shapes to the 200 billion that make up the Milky Way. - Stargazing--From the accounts and theories of the ancient astronomers to today's scientists and their search for the extraterrestrial. - Exploring Space--From the first-known rockets to today's mighty spacecraft and the famous missions that advanced our exploration. - How It All Began . . . and Might End--From scientists' theories about the dawn of time to the fierce debate about how, when--and if--the universe may end someday.
About the Author
ABOUT THE AUTHOR Clive Gifford is an award-winning author with over 150 books published for children and adults, including Out of This World, Wow Science, and Discover the Extreme World. His books have garnered much praise and won the Children's Choice, NAPPA Gold Star, TES Book of the Year, and Smithsonian awards. Clive Gifford lives in the UK. ABOUT THE SERIES' ILLUSTRATOR Andrew Pinder initially studied archaeology and worked as an archaeologist and prehistorian, directing excavations and producing illustrations for museums, books, and specialist publications. Upon moving to Mallorca, he began work as an illustrator, painter, and muralist.? He has had numerous one-man exhibitions on Mallorca and has work in various public and private collections. As an illustrator, he has worked on more than 20 books, mainly for children, in Catalan, Spanish and English.
or
Not Currently Available for Direct Purchase