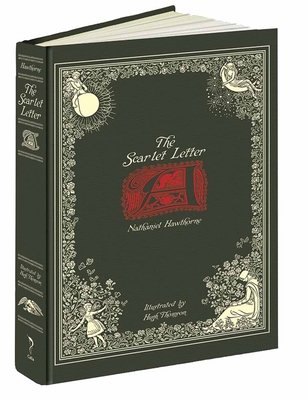 The Scarlet Letter (Calla Editions) (Hardcover)
Calla Editions, 9781606600917, 368pp.
Publication Date: October 20, 2016
Other Editions of This Title:
Digital Audiobook (5/9/2011)
Paperback (3/29/2013)
Paperback (10/5/2008)
Paperback (10/25/2005)
Paperback (3/20/2018)
Paperback (4/8/2019)
Paperback (4/1/2018)
Paperback (12/27/2012)
Paperback (12/16/2017)
Paperback (2/3/2018)
Hardcover (11/13/2018)
Hardcover (10/16/2018)
Hardcover (10/27/2018)
Hardcover (11/10/2018)
Hardcover (10/15/2008)
Hardcover (10/11/2018)
* Individual store prices may vary.
Description
A compelling tale of sin, guilt, and revenge, The Scarlet Letter is also a story of love and forgiveness. Nathaniel Hawthorne's 1850 masterpiece unfolds among the rigidly intolerant Puritans of the Massachusetts Bay colony, where Hester Prynne is condemned to wear the scarlet letter as a badge of shame. Rich in symbolism, the novel offers a uniquely American perspective on spiritual and moral issues. This deluxe hardcover reproduction of a rare 1920 edition features 31 atmospheric watercolor plates by Hugh Thomson, a noted illustrator of classic literature.
About the Author
Born on the fourth of July in 1804, Nathaniel Hawthorne wrote the stories that lie at the heart of the American Romantic movement. His portraits of colonial life reflect his Puritan heritage and offer fascinating profiles of individuals who strive for freedom from social conventions.Hugh Thomson (1860-1920), a prolific illustrator of books and magazines, is best known for his pen-and-ink drawings for classics by Austen, Dickens, Shakespeare, and others. He occasionally worked in watercolors, as in this volume.