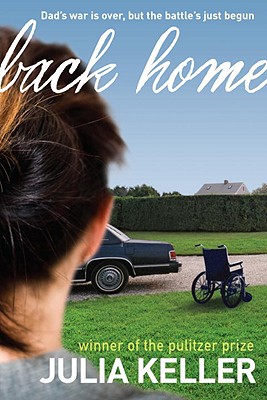 Back Home (Hardcover)
EgmontUSA, 9781606840054, 208pp.
Publication Date: September 8, 2009
Other Editions of This Title:
Hardcover (9/8/2009)
* Individual store prices may vary.
Description
" I guess you would call us a normal family. Once a month, and sometimes other times, too, Dad would be gone for a few days. Mom told us that he was in the National Guard. We were normal, you could say. And then we weren t.
"
Rachel Brownie Browning is thirteen when her father comes back from the war in Iraq. Of course she understands that he has been injured and that he will be a little different, at least for a while. But Brownie doesn t even know the man with a prosthetic arm and leg who sits in the living room day after day. He's certainly not the father who helped her build a fort in her backyard, or played basketball with her sister, or hauled her little brother around like a sack of potatoes.
Brownie's mother says that because of his traumatic brain injury, their father needs their affection and patience. In time, he ll be better Dad will be back. But Dad doesn t seem to be making much progress, or much effort. He doesn t smile. He doesn t talk. He won t even get out of his wheelchair, even though the doctors have taught him how and say that walking is essential to his recovery. And Brownie begins to wonder, will her family ever be able to return to the way life was before the war?
A story about an ordinary family forced to deal with an extraordinary loss, "Back Home" tells the tale of families scarred and the battle just beginning when their wounded loved ones return home.
About the Author
Julia Keller was born and raised in Huntington, West Virginia. Her father was a mathematics professor and her mother was a high-school English teacher. Julia has taught at Ohio State and Princeton universities and the University of Notre Dame. She won a Pulitzer Prize for feature writing for her work at the "Chicago Tribune." Her first book, "Mr. Gatling s Terrible Marvel," is the true story of the man who invented the world s first working machine gun because he honestly thought it would help end war. Julia lives in a high-rise in Chicago and a stone cottage on a lake in rural Ohio. You can visit her at www.juliakeller.net."
Praise For Back Home…
"Julia Keller has written a novel of heartrending honesty and integrity. Her characters are vividly drawn, her "ordinary" American family is achingly real, and what is perhaps most impressive about Back Home is the author's refusal to provide easy answers, let alone easy solutions, to a contemporary social tragedy. Back Home is a novel for readers of all ages."
--Joyce Carol Oates
or
Not Currently Available for Direct Purchase