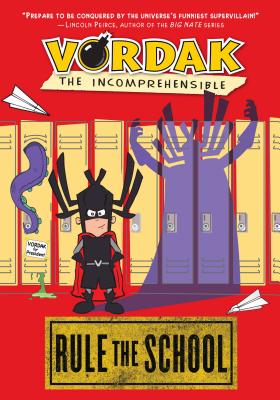 Rule the School (Vordak the Incomprehensible) (Hardcover)
Darby Creek (Tm), 9781606840146, 182pp.
Publication Date: August 23, 2011
Other Editions of This Title:
Paperback (4/1/2012)
* Individual store prices may vary.
Description
"Greetings, goobers After my latest experiment worked a little too well--transforming my rather fetching figure into something significantly smaller--I've been forced to return to those halls of horror better known as . . . school. But going back to junior high may be my greatest opportunity for mayhem in many a month Try to keep up as I:

● Dramatically defeat the daily dangers of schooldom--even though everyone is against me.

● Strive to win the junior high presidential election by alerting my fellow students to the wonderfulness of Vordak the Incomprehensible, as well as the yuck-ness of my opponent, Marlena Lurchburger.

● Mastermind a catastrophic career day, where that disgusting do-gooder Commander Virtue will finally, fiendishly be foiled.

Fortunately for you, I have recorded every mischievous moment within these carefully crafted covers so that you may bask in my brilliance as I plot to RULE THE SCHOOL . . . and, eventually, THE WORLD MUAHAHAHAHA "
About the Author
Vordak the Incomprehensible is a world-class Supervillain and the Evil Master of all he surveys. His first book, "Vordak the Incomprehensible: How to Grow Up and Rule the World" has inspired a whole new generation of minions and fiends. His current whereabouts are unknown (and no, they are not in his parents basement in Trenton, New Jersey). You are hereby instructed to visit Vordak online at www.vordak.com, and he will know if you don t, so beware."
or
Not Currently Available for Direct Purchase