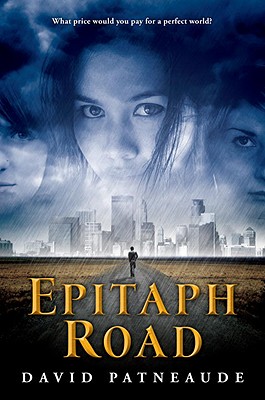 Epitaph Road (Hardcover)
EgmontUSA, 9781606840559, 272pp.
Publication Date: March 23, 2010
* Individual store prices may vary.
or
Not Currently Available for Direct Purchase
Description
2097 is a transformed world. Thirty years earlier, a mysterious plague wiped out 97 percent of the male population, devastating every world system from governments to sports teams, and causing both universal and unimaginable grief. In the face of such massive despair, women were forced to take over control of the planet--and in doing so they eliminated all of Earth's most pressing issues. Poverty, crime, warfare, hunger . . . all gone.
But there's a price to pay for this new "utopia," which fourteen-year-old Kellen is all too familiar with. Every day, he deals with life as part of a tiny minority that is purposefully kept subservient and small in numbers. His career choices and relationship options are severely limited and controlled. He also lives under the threat of scattered recurrences of the plague, which seem to pop up wherever small pockets of men begin to regroup and grow in numbers.
And then one day, his mother's boss, an iconic political figure, shows up at his home. Kellen overhears something he shouldn't--another outbreak seems to be headed for Afterlight, the rural community where his father and a small group of men live separately from the female-dominated society. Along with a few other suspicious events, like the mysterious disappearances of Kellen's progressive teacher and his Aunt Paige, Kellen is starting to wonder whether the plague recurrences are even accidental. No matter what the truth is, Kellen cares only about one thing--he has to save his father.
About the Author
David Patneaude finally heeded the advice, "It's never too late to have a happy childhood," and began writing seriously (more or less) in the mid-1980s. His first novel, Someone Was Watching, was published by Albert Whitman in 1993. It was named to eight state master reading lists, winning awards in South Dakota and Utah.

Eight more books followed, the most recent of which, A Piece of the Sky, a tale of mystery and suspense, came out in April 2007. David's books have been placed on young readers' lists in more than thirty states and honored by the New York Public Library, the Society of School Librarians International, the Winnetka (Illinois) Public Library's "One Book, Two Villages" program, and the Washington State Public Library. He has taught writing at conferences, community colleges, the University of Washington, and the Institute of Children's Literature.

When he's not sitting in a coffee shop writing, or at a school or library or conference talking about writing, or out on the running trail thinking about writing, he's at home in Woodinville, Washington, with his wife, Judy, a junior high librarian. You can visit him at www.patneude.com.
Advertisement