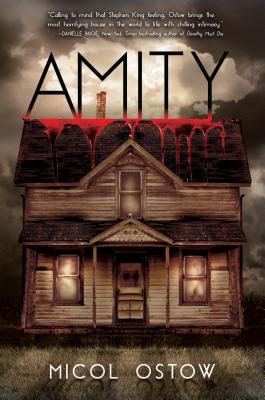 Amity (Hardcover)
Egmontusa, 9781606841563, 368pp.
Publication Date: August 26, 2014
Description
"Here is a house of ruin and rage, of death and deliverance.
Here is where I live, not living.
Here is always mine."
When Connor's family moves to Amity, a secluded house on the peaceful banks of New England's Concord River, his nights are plagued with gore-filled dreams of demons. destruction, and revenge. Dreams he kind of likes. Dreams he could make real, with Amity's help.
Ten years later, Gwen's family moves to Amity for a fresh start. Instead, she's haunted by lurid visions, disturbing voices, and questions about her own sanity. But with her history, who would ever believe her? And what could be done if they did?
Because Amity isn't just a house. She is a living force, bent on manipulating her inhabitants to her twisted will. She will use Connor and Gwen to bring about a violent end as she's done before. As she'll do again. And again. And again.
Inspired by a true-crime story, "Amity "spans generations to weave an overlapping, interconnected tale of terror, insanity, danger, and death.
Praise for AMITY:
"Calling to mind that Stephen King feeling, Ostow brings the most horrifying house in the world to life with chilling intimacy." Danielle Paige, "New York Times"best-selling author of"Dorothy Must Die"
Heart-stopping and chilling "Amity"will haunt you long after the last page. Kami Garcia, #1"New York Times"best-selling author"Unbreakable"& coauthor of"Beautiful Creatures"
"With"Amity," Micol Ostow reawakens old horrors for a new generation. A frightening tale spun with magic and real chills. Highly recommended." Jonathan Maberry, "New York Times"best-selling author of"Rot & Ruin"and"V-Wars."
"There is horror, and then there is the very particular horror of a Micol Ostow novel. . . . The permeable boundaries between now and then, living and dead, mind and world are transcended in"Amity," a tale that is as darkly beautiful as it is flat-out terrifying." Adele Griffin, two-time National Book Award Finalist and author of"The Unfinished Life of Addison Stone."
"This is a book that gave me actual nightmares I still can't shake. Told in deft, haunting language and filled with disturbing heart-pounding moments of true horror, "Amity"is Micol Ostow at her chilling, terrifying best." Nova Ren Suma, author of"Imaginary Girls"and"17 & Gone
""The best horror is like staring into the face of a terrible lunatic god, a gaze that is at once so awesome and insistent, you cannot look away even if you want to. Even if you realize you're starting to go a little bit crazy."Amity"is all that insidious, darkly malevolent, infectious. A fine madness, indeed." Ilsa J. Bick, author of the Ashes trilogy and"White Space"

About the Author
Micol Ostow has been writing professionally since 2004, and in that time has written and/or ghostwritten over 40 published works for young readers. She started her reign of terror with Egmont with her novel "family," which Elizabeth Burns named a favorite of 2012 on her "School Library Journal"-syndicated blog, A Chair, a Fireplace, a Tea Cozy. Micol's graphic novel, "So Punk Rock (and Other Ways to Disappoint Your Mother)," was named a 2009 Booklist Top Ten Arts Books for Youth Selection, a "Booklist" Top Ten Religion Books for Youth Selection, and a Sydney Taylor Notable Book for Teens. She received her MFA in Writing for Children and Young Adults from the Vermont College of Fine Arts, and currently teaches a popular young-adult writing workshop through MediaBistro.com.

She lives and works in New York City, alongside her Emmy Award-winning husband, their daughter, and a finicky French bulldog. Visit her at www.micolostow.com. The author lives in Brooklyn, NY.
Advertisement