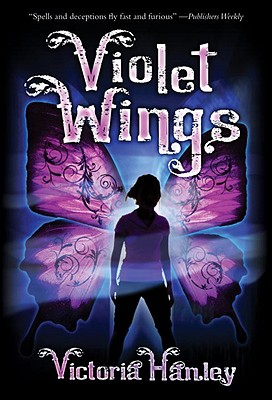 Violet Wings
Paperback

* Individual store prices may vary.
Other Editions of This Title:
Hardcover (8/25/2009)
Paperback (6/1/2011)
Description
For Zaria Tourmaline, the three years without her mother and brother have been lonely ones, living with a cold and distant guardian while she completes her education. Just as she is ready to join the world of adult fairies and genies, she finds a spellbook written entirely in her mother's hand. But this treasured object is not safe from a new enemy, a fairy with more power than Zaria ever dreamed existed. Only among the humans who must never know fairies and genies exist can Zaria hide the spellbook; but hidden magic, it turns out, can expose a fairy in ways she never thought possible.
Kirkus Reviews
Review Date: July 15, 2009
Fairies, genies, pixies and trolls: material for preschoolers books? Not so in Hanley's new effort following on her fantasy trilogy that began in "The Seer and the Sword"(2000). Zaria, a 12-year-old fairy from Tirfeyne, a parallel world unseen by humans, has received her wand and the watch that reveals her inborn levels of magic and power. She's exceedingly powerful, but she's also Earth-struck, far too interested in what happens on Earth, perhaps because her family disappeared during a visit there. Zaria discovers that her mentor Lily Morganite is evil, but with the help of friends and growing knowledge and control of her own powers, she's able to battle for control of the governing council against the stronger woman in a breathless climax that clearly sets up a follow-on novel. Each chapter begins with an excerpt from a history of Tirfeyne, creating a believable depth and detail in the fairy world. Although Zaria's character is well developed, others are superficially drawn. The well-realized world and believable main character make this a worthwhile read."(Fantasy. 10-14)
Egmont USA, 9781606841594, 357pp.
Publication Date: May 25, 2010
About the Author
Victoria Hanley has done a lot of traveling in search of fairy hotspots. She's made long journeys by car, plane, bus, train, and bicycle, not to mention plenty of hiking. Along the way, she has lived in California, Massachusetts, Wisconsin, New Mexico, Oregon, and Colorado, and her novels have been published in ten languages. Her fantasy headquarters are now located in Loveland, Colorado, at the foot of the Rocky Mountains, a place where fairies and genies, along with pixies, trolls, gremlins, and assorted humans, are always welcome to gather. You can visit the author at www.victoriahanley.com.
or
Not Currently Available for Direct Purchase