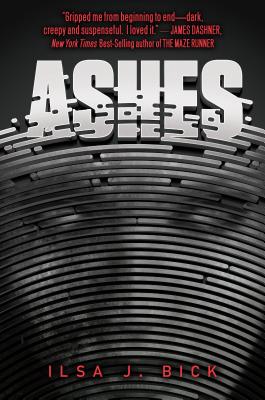 Ashes (Ashes (Hardcover - Trilogy) #1)
Hardcover

* Individual store prices may vary.
Other Editions of This Title:
Paperback (8/28/2012)
MP3 CD (8/28/2012)
MP3 CD (8/11/2015)
Paperback (9/1/2011)
Compact Disc (8/28/2012)
Paperback (10/1/2011)
Compact Disc (9/1/2011)
MP3 CD (9/1/2011)
Prebound (8/28/2012)
MP3 CD (9/6/2011)
Compact Disc (9/6/2011)
Description
An electromagnetic pulse flashes across the sky, destroying every electronic device, wiping out every computerized system, and killing billions. When it happens, Alex was hiking in the woods to say good-bye to her dead parents and her personal demons. Now desperate to find out what happened after the pulse crushes her to the ground, Alex meets up with Tom--a young soldier--and Ellie, a girl whose grandfather was killed by the EMP. For this improvised family and the others who are spared, it's now a question of who can be trusted and who is no longer human.

Author Ilsa J. Bick crafts a terrifying and thrilling novel about a world that could be ours at any moment, where those left standing must learn what it means not just to survive, but to live amidst the devastation.
Praise For Ashes (Ashes (Hardcover - Trilogy) #1)…
Gripped me from beginning to end – dark, creepy and suspenseful.  James Dashner,
New York Times Best-Selling author of The Maze Runner and The Scorch Trials       
             
A haunting and epic story of survival in a shattered world, ASHES is a must read.  
Michael Grant, New York Times Best-Selling author of Gone

"…a harrowing apocalyptic survival tale that brims with true horror….Ashes inhabits the same dark country as The Stand (and is, in fact, delightfully King-esque at times) or Justin Cronin's recent viral apocalypse The Passage…. Bick's ability to convincingly render the mindset of people exposed to horrors and those still living with them makes not just Alex but all the characters around her feel real enough that we ache for them."  Locus Magazine
 
The gorgeous (and disturbing cover) is sure to grab attention; an impeccable sci-fi/horror
balance, quick pace, and risky storytelling all live up to the jacket's promise.  The Bulletin of the Center for Children's Books
 
An action-packed tale of an apocalypse unfolding, launching a trilogy with flair.   Publishers Weekly                 
 
Gritty, grim, grotesque, gruesome, gratifying and ultimately deeply satisfying, Ashes is this year's best ya dystopian novel. Pamela Thompson,  El Paso Times Sunday Living  
 
Splendidly paced apocalyptic zombie horror ends with a thrilling, terrifying cliffhanger and a number of unresolved mysteries.   Kirkus Reviews
 
You won't want to put it down and, quite frankly, it blows the rest of those dismal-future books clean out of the water.  Donna at Bites, www.bitemybooks.com
 
Ashes is disaster done right, it has to be one of the best disaster books I have read in a long while... I cannot recommend this book enough.  (Five Stars) www.readforyourfuture.org
 
It's like the Walking Dead, but in a YA novel…. I can't wait for the sequel!   Hallie Wilkins, age 16, Anderson's Bookshops
 
Dystopia on steroids, exactly what it should be.  Pamela, Hickelbees, San Jose, CA
 
Front and center we have my current obsession, Ilsa Bick's Ashes, which is like Justin Cronin's The Passage for the YA set.   Suzanna Hermans, co-owner of Oblong Books & Music in Rhinebeck, N.Y
 
If Cormac McCarthy and Justin Cronin bore a lovechild (I read The Passage directly following ASHES), Ilsa J. Bick would be their bouncing baby girl. A. Ragheb, randomactsofreading.com  
 
"Great writing. Fantastic plot. Likeable characters. Mt. Everest-type cliffhanger. It all makes for a fabulous book -- for young adult readers and adults alike." –Examiner.com (Chicago)
 
"Ashes is one that fans of Suzanne Collins's trilogy will surely devour. …What will really grab readers is the wonderful narrative that carries Ashes through every shocking, unexpected plot twist. Bick clearly has a natural gift for storytelling, and here she has crafted a compelling story that will suck you in." ---Examiner.com (national) 
 
"An easy read with engaging characters and an intriguing plot. …This novel is gripping and intense but very dark…it's not a book for the faint of heart or young and may leave readers checking for their flashlights and battery-operated radios — just in case." –Deseret News
Egmontusa, 9781606841754, 480pp.
Publication Date: September 6, 2011
About the Author
Ilsa J. Bick is a child psychiatrist, as well as a film scholar, former Air Force major, and now a full-time author.Her critically acclaimed first YA novel, "Draw the Dark," won the2011 Westchester Fiction Award and was named a Bank Street College 2011 BestBook.Ilsa currently lives with her family and several furry creaturesin rural Wisconsin, near a Hebrew cemetery. One thing she loves about the neighbors: they re very quiet and only come around for sugar once in a blue moon.You can visit her online at www.ilsajbick.com."
or
Not Currently Available for Direct Purchase