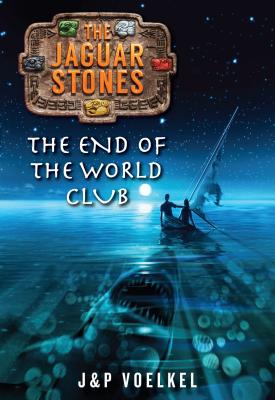 The End of the World Club (Paperback)
Egmontusa, 9781606843079, 396pp.
Publication Date: February 28, 2012
Description
As the end of the Mayan calendar approaches, fourteen-year-old Max Murphy and his friend Lola, the modern Maya girl who saved his life in the perilous jungle, are racing to outwit the twelve Lords of Death. Their quest takes them to a part of Spain steeped in legend and superstition, where the teens must face betrayal, madness, bluffs, and double-crossings to uncover long-buried secrets and find the Yellow Jaguar Stone. As they search, they must also outrun a pack of hellhounds and the dastardly Count Antonio de Landa, who is hot on their heels. But no matter where they run, all roads lead to Xibalba. There, in the cold and watery Maya underworld, we finally learn why only Max Murphy can save the world from the villainous Lords of Death.

Also available in hardcover (ISBN 978-1-60684-072-6) and e-book (ISBN 978-1-60684-201-0) editions.
About the Author
Jon Voelkel grew up in Peru, Costa Rica, and Colombia. He attended college and business school in Barcelona, after which he worked in advertising agencies in Spain, Holland, and England, ultimately starting his own agency with four other partners - one of whom would be his future wife. In 2001, The Financial Times named him one of the top fifty creative minds in Britain.

Pamela Craik Voelkel graduated from Leeds University in English Language and Literature. After many writing-related jobs, she became an advertising copywriter. As Creative Director of Craik Jones Watson Mitchell Voelkel, she helped the agency win hundreds of awards.

The Voelkels' collaboration continues in Vermont, where they live with their three children.
Praise For The End of the World Club…
"[Y]oung fantasy and history fans will enjoy...all the action and adventure." - Library Media Recommended

Praise for Middleworld:
". . . another rip-roaring adventure based on the end of the Mayan calendar. . . The funny thing about this book is that it's actually funny -- LOL funny." - The Post and Courier, Charleston SC

"The perfect bait to get a videogamer to turn off the TV and read." - Young Adult Books Central, Five Star Review
Advertisement