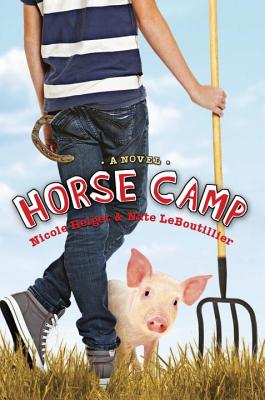 Horse Camp (Hardcover)
EgmontUSA, 9781606843512, 304pp.
Publication Date: May 8, 2012
* Individual store prices may vary.
or
Not Currently Available for Direct Purchase
Description
When their mom said she was sending twelve-year-old Percy and Penny and their little brother, Pauly, to stay with an uncle they d never met, she tried to make it sound better by saying that Uncle Stretch's farm was a horse camp. Well, the farm animals are actually chickens and pigs, and the only two horses are mean-tempered and not too keen on being ridden by kids. As Penny puts it, This farm is like the eighteenth century, but way worse The water has a rusty taste, and all the meat used to be animals on the farm. If there is one thing the twins can agree on, it's that between endless chores, no Internet or cell phones, and the prospect that their mom might have to stay in jail (even though some people say she's a hero), horse camp is a big, fat joke. Will they ever have a real family again? Or is there a family for them right here?
Nicole Helget and Nate LeBoutillier have written a funny novel about farms and family, animals and antagonism and the paths kids take, sometimes while living in the same house, before coming home.
About the Author
Nate LeBoutillier was born in Minneapolis, Minnesota, in 1975 as the first of six children, and he was raised in various small towns located in the heel of that boot-shaped state.Nicole Helget was born in New Ulm, Minnesota, in 1976, and she grew up as the oldest of six girls on a farm outside Sleepy Eye.They met at Minnesota State University in Mankato, and they married in 2008. Together, in North Mankato, Minnesota, they work and live with children numbering six."Horse Camp"is their first co-authored book of fiction for young readers."
Advertisement