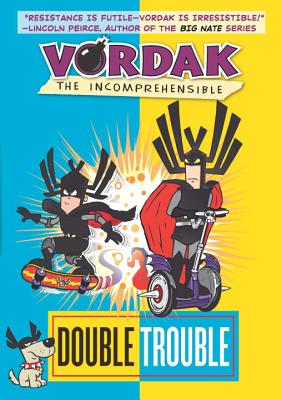 Double Trouble
Hardcover

* Individual store prices may vary.
Description
"I, the brilliant and handsome Evil Mastermind Vordak the Incomprehensible, clone a younger version of myself as part of my master plan to win first prize at the annual Supervillain and Son picnic. Unfortunately, my youthful self turns out to be . . . good. Will my extreme evilosity suppress all strains of sincerity or will I (shudder) learn to play . . . nice?

Chronicled between the luminous leafs of my latest magnificent masterpiece, I'll relate every moment as I face the greatest battle between good and evil ever known in the existence of this puny planet--the battle with myself."
Egmontusa, 9781606843727, 177pp.
Publication Date: August 28, 2012
About the Author
Vordak the Incomprehensible is a world-class Super Villain and the Evil Master of all he surveys. His previous writing includes his half of witty banter with various superheroes as well as numerous ultimatums to world leaders. This is his first book. His future projects include an autobiography tentatively titled A Life Vastly Superior to Yours as well as rewriting the literary classics War and Peace and The Grapes of Wrath in order to "make them better." His current whereabouts are unknown, where he is enjoying semi-retirement with his genetically altered dog, Armageddon.
or
Not Currently Available for Direct Purchase