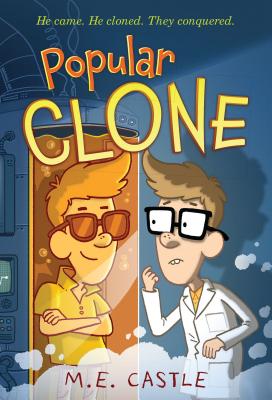 Popular Clone (Clone Chronicles) (Paperback)
Darby Creek Publishing, 9781606844144, 320pp.
Publication Date: December 26, 2012
Description
Meet Fisher Bas: 12 years-old, growth-stunted, a geeky science genius, and son of the Nobel Prize-winning creators of the Bas-Hermaphrodite-Sea-Slug-Hypothesis. No surprise: Fisher isn't exactly the most popular kid in his middle-school, tormented daily by the beefy, overgrown goons he calls The Vikings. But he senses relief when he comes upon the idea of cloning himself--creating a second Fisher to go to school each day while he stays at home playing video games and eating cheetos with ketchup. It's an ingenious plan that works brilliantly, until Fisher's clone turns out to be more popular than him--and soon after gets clone-napped by the evil scientist Dr. Xander. Can Fischer save his clone in time, or will his whole plan be exposed?
About the Author
M.E. Castle is a writer and actor working in the glorious center of the universe, New York City. He graduated from Oberlin College in 2008 with a degree in theater and has written a number of short stories, only a handful of which have ever been seen by an audience wider than his closest friends. "Popular Clone" is his first novel. You can visit him online at www.theclonechronicles.com."
Advertisement