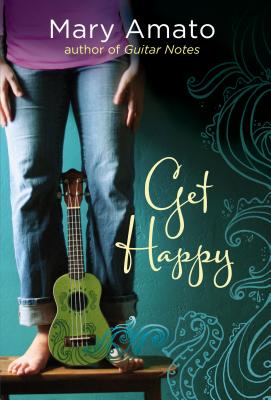 Get Happy (Hardcover)
Egmontusa, 9781606845226, 256pp.
Publication Date: October 28, 2014
Description
In this poignant, realistic, contemporary YA by a state master list star, perfect for fans of Sarah Dessen and Gayle Forman, a young songwriter builds a substitute family with her friends in place of the broken family she grew up with.
Minerva has been raised by her single mother after her father left them both. On her 17th birthday, she is shocked to discover that he has been trying to keep in touch, but her mother has been sabotaging his attempts. Furious at her mom, she begins to investigate her dad, a famous marine biologist, only to discover that he has a new family, including a beloved, and perfect, stepdaughter--a girl Minerva already knows and despises. As she makes her way, trying to build her performing and songwriting career, her jealousy takes over and threatens to derail her life completely. It is only through the efforts of her best friend, Fin, and the introduction of Hayes, a new young man in her life, that she is able to see clearly who she is and who makes up her family.
You may visit Mary Amato at either www.maryamato.com or www.thrumsociety.com, or follow her on Twitter @MaryAmato.
"Releases simultaneously in electronic book format (ISBN 9781606845233).
About the Author
Mary Amato is an award-winning children's book author, songwriter, musician, puppeteer, and poet. She writes for children of all ages, and is beginning to focus on YA. Mary lives with her family outside Washington, DC, where she also performs regularly, singing and playing her own songs. Mary is a popular speaker and runs numerous workshops for teachers and students, including many on all aspects of creative writing, even songwriting. The author lives in Silver Spring, MD.
Advertisement