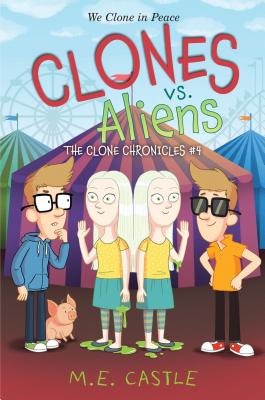 Clones vs. Aliens (Clone Chronicles) (Hardcover)
Darby Creek Publishing, 9781606845349, 288pp.
Publication Date: February 10, 2015
* Individual store prices may vary.
or
Not Currently Available for Direct Purchase
Description
Fisher, Two, Amanda, and Veronica are happy to spend their holiday break at Fisher's parents' new amusement park. But when aliens crash-land on Fisher's favorite roller coaster, mistaking it for their home planet, it spells the end of R&R for our heroes. Meet the Gemini: not only are all the aliens identical twins, they're also all beautiful girls. The crew decides the best way to encourage the Gemini girls to vacate the stratosphere is to give them a taste of middle school. But Fisher and his crew learn quickly that the Geminis are not to be messed with, not when they might literally explode at any moment. That's right, the Geminis are like puberty times one million. They can seem sweet as pie, but when they turn on you, they're deadly.
About the Author
M.E. Castle is a writer and actor working in the glorious center of the universe, New York City. He is the author of "Popular Clone," "Cloneward Bound," and "Game of Clones" in The Clone Chronicles series. You can visit him online at www.theclonechronicles.com.
Advertisement