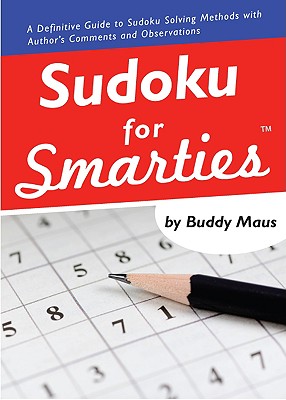 Sudoku for Smarties (Paperback)
A Definitive Guide to Sudoku Solving Methods with Author's Comments and Observations
Tate Publishing & Enterprises, 9781606966556, 87pp.
Publication Date: February 1, 2009
* Individual store prices may vary.
Description
Have you hit a snag trying to improve your Sudoku solving skills? Are you simply searching for new and better techniques? Buddys Sudoku for Smarties tm is the perfect solving guide with dozens of detailed methods, comments, and tips. Learn to think and solve like a pro! This guide will take players through several practiced methods in an easy-to-follow, user-friendly format. Buddy explains how to use phantom numbers, dotting, and penciling to narrow down choices. He also discusses pockets, the rules of three and six, shapes, pairs, how to find doubles and triples, and much more. Sudoku for Smarties tm is intellectually stimulating and challenging. Buddys conversational style will make everyone from beginners to professional solvers feel as though they are learning from an old friend.
or
Not Currently Available for Direct Purchase