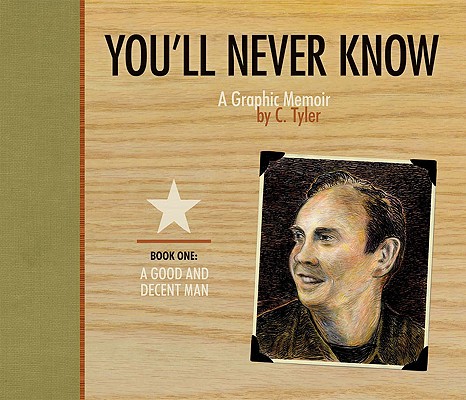 You'll Never Know Book One
"A Good and Decent Man"
Hardcover

* Individual store prices may vary.
Other Editions of This Title:
Paperback (11/23/2015)
Hardcover (10/24/2012)
Hardcover (10/18/2010)
Description
Nominated for two 2010 Will Eisner Comic Industry Awards: a graphic memoir of the author's relationship with her World War II veteran father, and how his war experience shaped her childhood and affected her relationships in adulthood, stunningly rendered in detailed inks and subtle watercolors.
You'll Never Know
is the first graphic novel from C. Tyler (
Late Bloomer
) and sure to be one of the most acclaimed books of the year. It tells the story of the 50-something author's relationship with her World War II veteran father, and how his war experience shaped her childhood and affected her relationships in adulthood. "You'll Never Know" refers not only to the title of her parents' courtship song from that era, but also to the many challenges the author encountered in uncovering the difficult and painful truths about her Dad's service—challenges exacerbated by her own tumultuous family life.
You'll Never Know
is Tyler's first first full-fledged graphic novel (after two volumes of short stories). Unlike many other graphic memoirs which have opted for simple, stylized drawings and limited color or black and white,
You'll Never Know
makes full use of Tyler's virtuosity as a cartoonist: stunningly rendered in detailed inks and subtle watercolors, it plunges the reader headlong into the diverse locales: her father's wartime experiences and courtship, her own childhood and adolescence, and contemporary life. The unique landscape format, and the lush variety of design choices and rendering techniques, make perusing
You'll Never Know
like reading a family album—but one with a strong, compelling, sharply told story.
You'll Never Know
's release schedule and format emulate those of Chris Ware's
ACME Novelty Library
: three beautifully designed, large-format hardcover volumes released annually to complete a trilogy of astonishing breadth, depth, and sensitivity.
Nominated for two 2010 Will Eisner Comic Industry Awards: (Best Writer/Artist: Nonfiction; Best Painter/Multimedia Artist: Interior Art).
Praise For You'll Never Know Book One: "A Good and Decent Man"…
Starred Review. Tyler's fluid, expressive linework, complemented by subtly overlaid watercolors, gives ideal visual expression to a narrative that's at once sensitive and hard-nosed. [You'll Never Know, Book 1] is Tyler's first book-length effort, but decades of drawing mostly autobiographical stories have honed her skills, enabling her to produce a work that ranks in quality with the graphic memoirs of Alison Bechdel (Fun Home) and Marjane Satrapi (Persepolis).

— Gordon Flagg - Booklist

A dense, triangulated tale (war and madness; father/daughter coming-of-age; familial reconciliation) made accessible by Tyler's detailed yet straightforward storytelling and impeccable renderings... Switching artistic styles to connote the passage of time, Tyler's graphic narrative deftly moves between her childhood and her father's war experiences, between dream sequences, real time, psychology, and family lore. The book transcends mere documentation; it is a valentine sealed in genealogy, footnoted in history.
— Cincinnati Magazine

The style of the book is beautiful....a touching and unflinching tribute to Tyler's father.
— Eden Miller - Comicsgirl

Tyler's impressive drawings and inks [are] vividly colored in an amazing array of fluidity... You'll Never Know is so compellingly honest and un-self-conscious that it makes its point all the more poignant.

— John Hogan - Graphic Novel Reporter

Funny, moving, sad—highly recommended.
— Librarie D+Q

It's a really rather fascinating work, and the longer one thinks about it, the more important and universal it seems to be.... I won't be at all surprised to see this book taking slots on a lot of best of the year lists in another six months or so.
— J. Caleb Mozzocco - Newsarama

Starred Review. The drawings speak with an even greater richness thanks to the
evocative words that appear within and around them, commenting upon and
adding to the action portrayed in the panels....this wonderful book is
a thoughtful work that greatly adds to the language of the graphic
memoir.
— Publishers Weekly

At one point in her comic-style memoir, Carol talks to us directly and says, 'The war was never really buried under tons of mental concrete. Rather, it was an active shaper of life, affecting moods and outcomes ... more than anyone ever knew.' Indeed. This is an important and deeply spiritual contribution to American culture.
— David Crumm - Read the Spirit

You'll Never Know is, for good or ill, going to elicit a lot of comparisons to Maus... Yet while Tyler's work...certainly deserves any accolades it receives, it's a much different book—warmer, more overtly affectionate and more personal to a certain extent as well... Tyler's art is constantly inventive and alive throughout the book. full of color and energy yet incredibly lyrical and graceful when need be.

— Chris Mautner - Robot 6

Both visually and narratively, Tyler keeps [the] threads nicely wound into an account that carries readers along and shows how various pasts inform the present, how vulnerable parents can be, and how wartime can create minefields later in life. Her gently colored artwork is expressive and goes far to bring eras of the past to life through dress, hairstyles, and dance moves... [T]he story here will touch those who are just realizing that the older people they think they know have their own burdens and secrets.
— Francisca Goldsmith - School Library Journal

#1 on The Top 50 Comics of 2009: A mash-up of family portrait, generational analysis, autobiography and scrapbook, this book was not only the most emotionally powerful work of the year, it was the most attractively designed. The first part of what will likely be Tyler's masterwork.

— Rob Clough - The Comics Journal

A beautifully painted book by one of the world's greatest cartoonists, You'll Never Know is a work in progress that should find a special place in the hearts of those who lived with World War II veterans that could never bring themselves to talk openly and freely about the experience.

— Tom Spurgeon - The Comics Reporter

It's impossible not to compare You'll Never Know with Art Spiegelman's Maus, the first great graphic novel about what happened to a cartoonist's father during World War II....Tyler's book is a vivid, affecting, eccentrically stylish frame built around a terrible silence.

— Douglas Wolk - The New York Times Book Review

The 'family history' graphic novel subgenre can feel overdone at times... but volume one of Carol Tyler's autobiographical You'll Never Know is the kind of smartly conceived, affectingly personal work that makes comics and memoirs look fresh... Carol Tyler works wonders with colored pencils and offbeat page designs... the breadth of her visual imagination is so impressive that... overreach is excusable. Also impressive: the thematic complexity of You'll Never Know... [Grade] A-.

— The Onion A.V. Club

Tyler is able to take the genre of war veteran memoir and twist it around her own autobiography as a way to reveal not only how war affects a person but also how a parent affects a child—it's the march of history through personal psychology.
— John E. Mitchell - The Transcript

A kind of stream of consciousness portrayal of a journey into a father's past as told by the author…This graphic novel is not your blood and guts portrayal of a ruthless soldier but rather an investigation into the emotional costs that was has on the combatant and the family that they sire…The book ends without resolution or even clear direction, begging the question whether we can truly ever understand another person's life.
— Quentin Williams - two.one.five Magazine

One of the true greats of the 'underground' generation.
— Chris Ware, author of Jimmy Corrigan and The ACME Novelty Library

Tyler has the giftedness and the bite of our best political cartoonists.
— Studs Terkel, author of Working and other acclaimed oral histories

This first part of You'll Never Know shows a potential rift in how father and daughter understand their lives, and how they think a war should be remembered. I can't wait to read how this fracture develops, deepens, and perhaps closes up.

— Walter Biggins - Quiet Bubble

Tyler manages to unravel the saga brilliantly at every level of narrative and artistic execution. Basic training for the war, courtship of her mother that happens almost simultaneously, the invasion of north Africa and conflicted events in the artist's own life with husband, daughter and father in turmoil emerge seamlessly.... The saga is unfinished and a second volume awaits, we are told. It's bound to be memorable.
— Paul Buhle - Morning Star [UK]

Carol Tyler's You'll Never Know is my favorite book of the year thus far. This memoir/biography/scrapbook is both formally challenging and emotionally devastating. Any critic serious about compiling a year-end list needs to keep this book under consideration.

— Rob Clough - Robot 6

Tyler's sensitive 'voice' remains easily recognizable in her latest book, You'll Never Know. ... This book is to be savored slowly and on its own terms.

— Ng Suat Tong - The Comics Journal

This is a glorious mess, but a moving and beautiful one.
— Robert Boyd - The Great God Pan Is Dead

[C. Tyler's] autobiographical comics display a shocking, unruly wholesomeness: they are visually and morally beautiful, suffused with a scrap-doodle amateurism and palpable maternal love.
— Ken Chen - Rain Taxi

A terrific addition to the canon of literature about baby boomers, their parents and their children.
— Joe Gross - Austin American-Statesman

Book of the Year… Although this is only the first volume..., You'll Never Know feels like Tyler's masterpiece, the crowning achievement that she's been building toward.

— Marc Sobel - Comic Book Galaxy

I love this autobiographical family story as much for the way Tyler weaves between her own life and her father's, as for its painterly, illustrative panoramas of suburban neighborhoods and army scenes.
— Sasha Watson - Publishers Weekly

Tyler lets her warm, fluid art draw the parallels between herself and her father, and hint at a darker story behind it all.
— Glen Weldon - NPR.org

The list of excellent graphic novels released in 2009 seems to grow with every other book read, and this particular entry is one that stands out even in its crowded field.....It's an artful mix, matching a biographer's insight for detail with beautifully-flowing art and real emotions. If the next two volumes are this good, Tyler's work will be a modern classic, one for others to study for years.
— Matthew J. Brady - Warren Peace Sings the Blues

A tender, bittersweet tribute from a daughter to a father and his military service in a beautifully crafted, tactile memoir.
— Paul Gravett

A brilliant and disarmingly vulnerable historical memoir that converts a family's personal anguish into adult wisdom and grace. Part documentarian and part emotional wreck, Tyler examines her secretive father's WWII past and her own disintegrating marriage with an enviable balance between sensitivity and fearlessness.
— Mario Z. Alipio - The Truth About Comics

Tyler has a nice diary style that seems intimate and friendly but is also quite sophisticated. ... There aren't too many comics about middle-aged women, and it was nice to read about something other than youthful rebellion and angst for a change.
— Brigid Alverson - Robot 6
Fantagraphics, 9781606991442, 104pp.
Publication Date: June 23, 2009
About the Author
Carol Tyler was born and raised in Chicago and now a resident of Cincinnati. She was one of the first women to emerge from the underground comix movement. Her collection Late Bloomer, created after abandoning comics for nearly 20 years, was named in several end-of-the-year "best of" lists, as was the first volume of You'll Never Know, which was also nominated for two 2010 Eisner Awards (Best Writer/Artist and Best Painter/Multimedia Artist).
or
Not Currently Available for Direct Purchase