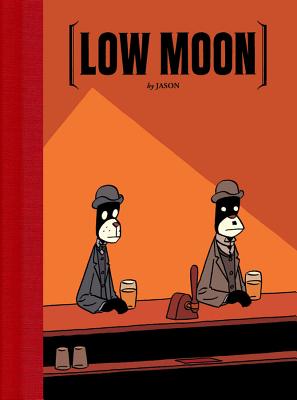 Low Moon
Hardcover

* Individual store prices may vary.
Description
Five yarns from the Norwegian master: the titular New York Times serial collected for the first time and four all-new stories featuring murder, cavemen, sex, and alien abduction. Funny, poignant, and wry, this is Jason at his best.
The acclaimed graphic novelist Jason returns with his most eagerly awaited book yet, thanks to the inclusion of the title story, the world's first (and likely last) chess western, originally serialized in 2008 in the New York Times Sunday Magazine "Funny Pages" section.
This 216-page hardcover book features five yarns—all brand new with the exception of the aforementioned "Low Moon," which is collected into book form for the first time.
The new stories lead off with "Emily Says Hello," a typically deadpan Jason tale of murder, revenge and sexual domination. Then, the wordless "&" tells two tales at once: one about a skinny guy trying to steal enough money to save his ill mother, and the other about a fat guy murderously trying to woo his true love. The reason we follow these two parallel stories becomes obvious only on the very last page, in Jason's inimitable genre-mashing style.
"Early Film Noir" can best be described as The Postman Always Rings Twice meets Groundhog Day. But starring cavemen. And finally, "You Are Here" features alien kidnappings, space travel, and the pain and confusion of family ties, culminating in an enigmatic finale that rivals Jason's greatest twists.
Funny, poignant, and wry, Low Moon shows one of the world's most acclaimed graphic novelists at the absolute peak of his powers.
Praise For Low Moon…
Starred Review. Norwegian-French cartoonist Jason's new book is the first premiered in hardcover in the U.S. and contains his most minimally formatted stories... If you're into genre fiction, have a sense of humor but no time for condescension, and haven't encountered Jason yet, wait no longer.
— Ray Olson - Booklist

There's never been a better time to jump aboard the Jason train. As a fan of Jason, Low Moon is just terrific, far more new stuff in one place than we've been treated to before…This is as essential as comics gets.

— Bookmunch

Known for his ability to convey melancholic, deadpan humor, Jason is as on top of his game as ever with this release... Each story expresses a different degree of the author's range, mixing dark or mature themes with absurdity to varying degrees... Since it demonstrates Jason's range and is priced fairly modestly... Low Moon makes for a great starting point for those unfamiliar with Jason's work.

— Anthony Farruggia - Chicago Examiner

Now, with Low Moon, [Jason] has clenched his fist around me and won't let me go - this is easily my favorite of his works to date... Top to bottom, I enjoyed Low Moon very much... A worthy addition to one's bookshelf.

— Marc Mason - Comics Waiting Room

Unmistakably Jason's work: minimal dialogue, mixture of comic/serious/absurd/emotional moments, and populated by anthropomorphic animals. He uses crisp, clear lines, and despite the low number of words and the use of animals, conveys a wide range of expressions and emotions. He also effortlessly jumps, blends, and frustrates genres.
— Dave Lartigue - Dave Ex Machina

[Low Moon] is downright silly…as usual with Jason's work, it entertains with delicate absurdity…Jason's books have always has a cinematic feel, and he seems to examine this more than ever with direct tie-ins to film concepts playing major roles in several of the stories…entertaining, and fans of Jason should be more than happy to digest five new comics from one of the best in the business.

— William Jones - Graphic Novel Reporter

Jason is one of the relatively few working artists that even a jaded, cynical, complain-first critic like me will happily declare a true master cartoonist, without reservation. Jason is—how to put this?—good. Really, really, really good... So, Low Moon? It's Jason. It's new. It's obviously really, really good, you know?

— J. Caleb Mozzocco - Newsarama

[Low Moon] has filmic moments and comic pathos that have set a new standard for me for short fiction.

— Omnivoracious

The longest American book to date from Norwegian comics master Jason, Low Moon is actually a collection of five marvelously deadpan short stories. The expressionless anthropomorphic animals who populate his comics milk understatement for all the laughs it's worth…The core of Jason's breed of humor is his protracted silences—the uproariously uncomfortable moments when his characters are standing around waiting from disaster to strike.

— Publishers Weekly

A collection of mostly wordless comedic pleasures.
— Richard Gehr - The Village Voice

It's hard to think of a modern cartoonist with a more recognizable drawing style than Norway's Jason... But Jason's storytelling is just as distinctive as his drawing style... [and] the artist's narrative approach has grown more adventurous over the years. Jason's latest collection, Low Moon, is evidence of this trend... The reader, meanwhile, just lapses into a giddy comics coma.

— Casey Jarman - Willamette Week

There's no other cartoonist who matches Jason's somber deadpan and this serves as a great introduction to his work.
— John Mitchell - Worchester Magazine

Jason is sly and brilliant. [Low Moon] is highly recommended.

— Corey Blake

Though Low Moon doesn't have the slow-building impact of Jason's longer works, he's still one of comics' best storytellers, and it's always a treat to spend time in his world of off-brand pulp clichés and not-always-so-funny animals. [Grade] B+.

— The Onion A.V. Club

Jason is an immensely skilled artist capable of manipulating his self-restricted vocabulary to stretch space and time. Low Moon moves in a slow burn as the two antagonists move closer to their eventual showdown.

— Michael Buntag - NonSensical Words

All of Jason's tales in Low Moon play like a black comedy, tragic yet humorous. Maybe it's his protagonists blank eyed stares or the fact the characters are all cute animals being put through some troubling things that give these outwardly simple and light cartoons a heavy feel. If you're a comic fan looking for a change of pace from the tired summer/blockbuster/epic/crossover comic events then this one's for you.

— Mishka Bloglin

Featuring tawdry sex, alien abductions, existential crises, betrayal, and a hundred and one different varieties of murder, this is a book that pretty much has it all.
— Ian Chant - PopMatters

Although the five stories in Low Moon appear to have very little in common, the glue that holds them together is Jason's sublime artwork… He is an artist who understands the mechanics and timing of visual storytelling, and his highly simplified style has a grace and elegance that makes it aesthetically appealing.

— Marc Sobel - The Comics Journal

At times both bleak and humorous, these beautifully absurd stories will leave you as speechless as one of Jason's silent characters.
— Edward Kaye - Hypergeek

Jason is a painfully good comic creator – the man has a phenomenal knowledge of pacing, a sense of humor that's darker than Darth Vader in a mine at midnight and deceptively simple figurework that says a shitload with very little.
— Bob Temuka - The Tearoom of Despair
Fantagraphics, 9781606991558, 216pp.
Publication Date: July 14, 2009
About the Author
Jason hails from Oslo, Norway, but currently resides in Montpellier, France. He's won multiple Eisners, a Harvey, and an Inkpot award.
or
Not Currently Available for Direct Purchase