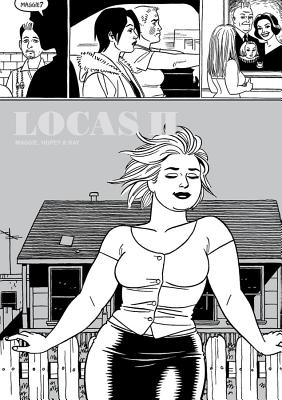 Locas II
Maggie, Hopey, & Ray (Love and Rockets)
Hardcover

* Individual store prices may vary.
Description
In this second big hardcover omnibus collection of his ongoing tales of the "Locas," Jaime Hernandez continues telling stories of the complexly intersecting paths of his main characters Maggie, Hopey and Ray.
This volume picks up shortly after Maggie and Hopey's long-awaited reunion at the end of the first Locas. Even though her love life remains as chaotic as ever, Hopey takes her first few steps toward responsible adulthood with a real job (as a teacher), while a demoralized, divorced Maggie ends up as the manager of a fleabag apartment building where she continues to wrestle with the demons of her past—most prominently in the stunning centerpiece of the volume, the graphic-novel-length "Maggie" serial, with its stunning, hallucinatory dream finale.
Meanwhile, Ray still carries a major torch for Maggie, but falls in with the "Frogmouth," the volatile bombshell whose ties to local thugs cause him no small amount of grief.
Of course, Maggie, Hopey, and Ray's paths continue to intersect in Hernandez's increasingly complex, intricate, and always vitally realized world.
This omnibus volume compiles stories originally printed in the pages of the comics Penny Century, the one-shot special Maggie & Hopey Color Fun (presented here in black and white), and Love and Rockets Vol. II, and was formerly collected in the volumes Dicks and Deedees, Locas in Love, Ghost of Hoppers and The Education of Hopey Glass.
Praise For Locas II: Maggie, Hopey, & Ray (Love and Rockets)…
Starred Review. The underlying theme of aging and acceptance is somehow ironic, considering that Hernandez's artwork is even more stylishly elegant, his storytelling more powerfully confident, than when he was a young turk, and Love and Rockets was the coolest comic around. His cast of complex, appealing characters continues to delight and surprise after nearly three decades.

— Gordon Flagg - Booklist

It's all classic Hernandez material, but this volume's key element that really makes the book sing louder than ever is the amount of focus placed upon Ray Dominguez.... Some of the richest material Jaime has ever produced focuses on Ray's pursuit of Vivian, a former stripper and wannabe actress that leaves nothing but pain and suffering in her wake.... There's so much good stuff in Locas II, though, that I could talk about it until my fingers bleed.... Locas stands alone. I highly recommend you read it and see why.

— Marc Mason - Comics Waiting Room

This beautifully put together hardcover collects the second volume of Xamie's 'Locas' tales from Love & Rockets. These tales of the lives of Maggie, Hopey, and Ray, are some of the most enthralling, and sometimes bizarre, stories ever told in the comic medium.

— Edward Kaye - Hypergeek

Somehow, some way, Jamie Hernandez is getting better and better. ... In Locas II: Maggie, Hopey and Ray, he's crafted perhaps his most universal work to date, a saga of three people who've left behind the postures of their youth to stumble, unsure and hesitant, across the landscape of their adult lives. It's strange and scary, funny and sweet, confused and enlightening. Locas II is a master as the top of his game, and a true comic book classic.

— Michael C. Lorah - Newsarama
Fantagraphics, 9781606991565, 424pp.
Publication Date: September 8, 2009
About the Author
Jaime Hernandez is an internationally acclaimed, award-winning (Will Eisner Hall of Famer; Harvey, Ignatz, and PEN Award-winner; L.A. Times Book Prize) cartoonist and a lifelong Los Angelean.