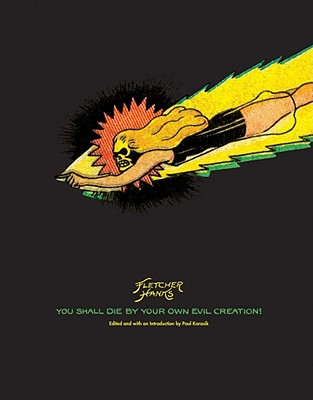 You Shall Die By Your Own Evil Creation!
Paperback

* Individual store prices may vary.
Description
Readers of the first Fletcher Hanks volume—I Shall Destroy All the Civilized Planets—were stunned by its pop surrealism and outright violent mayhem. This larger second volume, when combined with the first, comprises the complete comics work of the heretofore forgotten Golden Age visionary.
Fletcher Hanks was the first great comic book auteur. That is, he wrote, penciled, inked, and lettered all of his own stories. He completed an astonishing 48 stories in three years from 1939-1941. As a one-man-cartooning-band, his work packs the wallop of a unique and unified artistic vision. He was a true comics visionary. In the earliest days of the comic book, before censorship, it was "anything goes!"—and in the tales of Fletcher Hanks, anything went!
The superhero Stardust gazes down at evil-doers from space and doles out ice cold slabs of poetic justice with his wizardry. A villain out to kidnap all the heads of state gets turned into a giant head, himself… no body, just a head! The jungle protectress, Fantomah, looks like Jean Harlow in a skin-tight black negligee. But when she sees an evil scientist drugging gorillas to become slaves, her head transforms into a flaming skull and she tosses the villain to the gorillas who proceed to graphically tear the guy limb from ragged limb.
Although the early comic books were meant for the kiddies, today's mature readers are stunned by their pop surrealism and outright violent mayhem. The first volume of Fletcher Hanks stories, I Shall Destroy All Civilized Planets! (in multiple printings) was an Eisner Award-winning smash hit and a staple on "Best of the Year" lists.
Comics fans were thrilled to come upon a cartoonist of this caliber whom they had never heard of before. Non-comics fans who read about the book in The Believer and other journals were stunned to discover an Outsider Artist in comic book form. Edited by cartoonist Paul Karasik (who also provides an insightful introduction), this second volume, You Shall Die By Your Own Evil Creation!, collects all of the rest of Hanks's comic book work. That's right...all! The 31 tales in this book (more than twice as many as in the first), when combined with the first volume, comprise The Complete Fletcher Hanks!
Praise For You Shall Die By Your Own Evil Creation!…
A vessel of combined artistry and wrath, whose published legacy is as nightmarish as it is brilliant. The art reproductions capture vividly both Hanks' aggressive drawing style and the garish colors of the original Depression-into-wartime publications.
— Michael H. Price - Fort Worth Business Press

Gathers all the remaining material that the alcoholic, abusive [Fletcher] Hanks did during his brief tenure as a comic book creator in the late 1930s and early 40s... [T]here's still plenty of weird and wonderful tales to delight and disturb... [and] there are panels here that are rather stunning in their ability to create tension and drama... The work remains strange, powerful, funny, terrifying and yes, at times beautiful.
— Chris Mautner - Robot 6

Crude but powerful drawings; an eye-shattering color palette; helter-skelter plotting, often with anticlimactic, fall-off-the-cliff endings…terror and glee at the misery of humanity, salted with some token of morality. Yes, that's the Fletcher Hanks formula for a unique, unforgettable, Golden Age comics masterpiece.
— Paul Di Filippo - Sci-fi Wire

Hanks' hyperactive, colorful, robust, and crazy disproportionate art is perfectly matched to his over-the-top storytelling…Hanks left behind a body of work that's compelling to read simply because it's so lunatic and inadvertently hilarious. There are few artists, from the Golden Age to today, that so deftly blended goofy dialogue with terrifying violence and surreal situations; for better or worse, Hanks was a real original.
— The Onion A.V. Club

As much as I've been looking forward to the second collection, I honestly thought there was no way it could be as crazy, awesome, or crazy-awesome as the first one. I was wrong.
— Chris Sims - The-ISB.com

Once you see one of Super Wizard Stardust's grotesquely ironic
punishments or blonde bombshell Fantomah's inexplicable transformations
to skull-headed jungle avenger, it's impossible to look away.
Fantagraphics and Editor Paul Karasik take a return trip inside Hanks'
demented psyche, collecting the entire remaining chunk of the uniquely
unsettling work from this do-it-all Golden Age cartoonist of singular,
warped vision.
— Wizard

[T]hese extraordinary visions from a different, four-colour era are as bold and striking as they are violent and strange.... Classic comics from a different age.
— Grovel

I mean, holy. Effing. S---... Was Hanks insane or otherwise mentally handicapped? Dunno, but as editor Paul Karasik points out in his meaty introduction, this was a man mean enough to kick his 4-year-old son down a flight of stairs... You'll love how much you hate [these works]; you'll hate how much you love them.
— Rod Lott - Bookgasm

One of the greatest comic book talents you've never heard of.... If you want to understand the essence of comic books in their purest form then pick up You Shall Die by Your Own Evil Creation! and learn.

— Iann Robinson - Crave Online

Back in the Golden Age of comics there were few comic auteurs but Fletcher Hanks was one of the few. ... The stories are weird and grim. The art is unprofessional and beautiful.
— Nick Gazin - Vice

[T]hese surreal tales from the dawn of the super hero are uncompromisingly vivid, brutal, and at times, completely insane! ... Imagine reading this in the 1940s! It must have scared the crap out of people then, and it still remains eerie and bizarre even to this day!
— Edward Kaye - Hypergeek

Fletcher Hanks was one strange, f-ed up bastard who created some of the weirdest, creepiest, and (entirely by accident) most revealing comics of the Golden Era.
— Steve Hockensmith, author of Pride and Prejudice and Zombies
Fantagraphics, 9781606991602, 240pp.
Publication Date: September 8, 2009
About the Author
Fletcher Hanks (1889–1976) is an artist who, under various pseudonyms, wrote, drew, penciled, and inked his entire body of comics work from 1939–1941. Some consider his Fantomah character to be the first female superhero. He was an abusive alcoholic who was found frozen to death on a park bench.

Paul Karasik is the co-author (along with David Mazzucchelli) of the perennial graphic novel classic City of Glass, adapted from Paul Auster's novel. He lives in Martha's Vineyard.
or
Not Currently Available for Direct Purchase