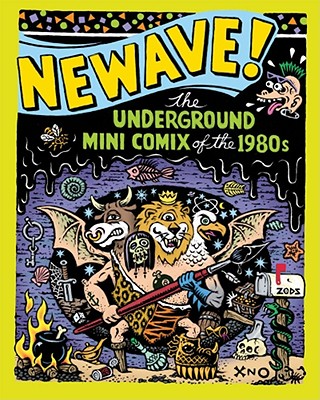 Newave!
The Underground Mini Comix of the 1980s
Hardcover

* Individual store prices may vary.
Description
The very best from comicdom's DIY/zine heyday!
Just a few of the names included herein: Jeff Gaither, Michael Roden, Wayno, Artie Romero, Brad Foster, Mary Fleener, The Pizz, Rick Geary, Dennis Worden, Steve Willis, Roy Tompkins, Tom Christopher, XNO, Clay Geerdes, Bob X, Jim Siergey, J.R. Williams, Jim Blanchard, Norman Dog, Molly Kiely, Mack White, Daniel Clowes, Doug Allen, Art Penn, Sam Henderson, Gary Whitney, George Erling, Bob Vojtko, Doug Potter, David Miller, Jim Ryan, Par Holman, Roger May, Meher Dada, Wayne Gibson, Tom Motley, Marc Arsenault, Bruce Chrislip, Dale Luciano, C. Bradford Gorby, Robin Ator, Douglas O'Neil, C. E. Emmer, Kurt Wilcken, Doug Holverson, Jamie Alder, Tom Hosier, Steven Noppenberger, W.C. Pope, Jim Gillespie, John Howard, Gary Lieb, Bob Conway, and Jim Thompson.
Newave!
is a gigantic collection of the best small press cartoonists to emerge in the 1970s after the first generation of underground cartoonists (such as R. Crumb, Gilbert Shelton, and Art Spiegelman) paved the way. These cartoon¬ists, inspired by the freewheeling creative energy of the underground commix movement, began drawing and printing their own comix. The most popular format was an 8 1/2" x 11" sheet, folded twice, and printed at local, pre-Kinkos print shops on letter-size paper; because of the small size, they were dubbed "mini comix." As they evolved many different artists, one by one, became interested in this do-it-yourself phenomenon. By the 1980's they became known as Newave Comix, a term taken from England's Newave rock 'n' roll movement. An explosion of do-it-yourself artists emerged. Many talented artists went onto bigger and better things, others have disappeared into the fog never to be heard from again. Inspired by the creative freedom of their underground predecessors and unrestrained by commercial boundaries or editorial edicts, their work was particularly innovative and experimental. Here you will find a group of artists who could not get any attention from the mainstream, who were driven by the inner need to express themselves. This group was a pioneering force that still leaves a wake and an imprint on the alternative comix scene today.
Newave!
features over 700 pages of comics, as well as a historical introduction by editor Michael Dowers, and interviews with several of the more prominent artists featured, such as Brad Foster, Artie Romero, Steve Willis, Dennis Worden, Bob X,  J.R. Williams, Roger May, Tom Hosier, George Erling, and Bob Vojtko.
Praise For Newave!: The Underground Mini Comix of the 1980s…
[A] fascinating treasure trove of an anthology… In addition to work by greats like Artie Romero, Rick Geary, and Mary Fleener, and 50 or so others, the book serves as the history of a movement.
— Publishers Weekly

If you are a student of the history of sequential art, Newave! feels like a must-have for your collection. It seems to be as perfect of a collection of mini-comix as you could ever find and it is informative as well as entertaining.

— Chad Derdowski - Mania

For mini comix collectors and for comics fans in general, Newave! is a historic publication. It's the first time this seminal group of underground artists and their hysterical, dirty, irreverent comix have been featured together in one book.

— Heidi Broadhead - Publicola

Bug your local shop to order about a thousand of these.
— Marc Arsenault - Wow Cool

More than just a collection of mini-comics, the book features interviews and insightful commentary from some of the creators as well as the lovingly-reproduced source material.
— Avoid the Future

Newave! is a wonderful sampler of what the mini comix of the 1980s where all about. ... Now, at last, Michael Dowers and Fantagraphics have brought those little-known 8-pagers out into the light and given them an appropriate place in comix history.

— Richard Krauss - Comic Related

Taken as a whole, Newave! presents a portrait of an era that might otherwise be overlooked as a vital link between, say, Zap and Eightball. ... a veritable treasure trove of material that would otherwise have been lost to the ages. And, perhaps most importantly, it's a hell of fun read.

— Brian Heater - The Daily Cross Hatch

[C]elebrates the entrepreneurial spirit and youthful energy of the early days of self-publishing. ... Newave! is a valuable overview of an overlooked era.

— Garrett Martin - Boston Herald

[G]orgeous, utterly essential… Newave! is not only an ideal package for such an anthology, it's done an immeasurable service to the comics medium as a whole. Beyond that, it also just might realign your synapses… [Grade:] A.

— The Onion A.V. Club
Fantagraphics, 9781606993132, 892pp.
Publication Date: February 28, 2010
About the Author
Michael Dowers (b. 1950) is an editor, publisher, and writer living in Washington State.
or
Not Currently Available for Direct Purchase