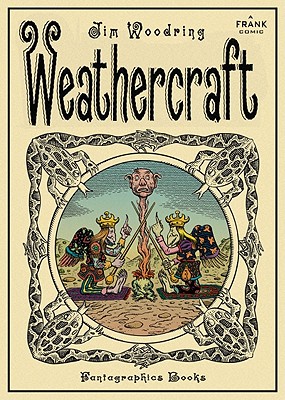 Weathercraft
A Frank Comic
Hardcover

* Individual store prices may vary.
Other Editions of This Title:
Hardcover (11/8/2016)
Description
The first graphic novel from a master of the form, co-starring his beloved "Frank" character.
For over 20 years now, Jim Woodring has delighted, touched, and puzzled readers around the world with his lush, wordless tales of "Frank." Weathercraft is Woodring's first full-length graphic novel set in this world—indeed, Woodring's first graphic novel, period!—and it features the same hypnotically gorgeous linework and mystical iconography.
As it happens, Frank has only a brief supporting appearance in Weathercraft, which actually stars Manhog, Woodring's pathetic, brutish everyman (or everyhog), who had previously made several appearances in "Frank" stories (as well as a stunning solo turn in the short story "Gentlemanhog").
After enduring 32 pages of almost incomprehensible suffering, Manhog embarks upon a transformative journey and attains enlightenment. He wants to go to celestial realms but instead altruistically returns to the unifactor to undo a wrong he has inadvertently brought about: The transformation of the evil politician Whim into a mind-destroying plant-demon who distorts and enslaves Frank and his friends. The new and metaphysically expanded Manhog sets out for a final battle with Whim...
Weathercraft also co-stars Frank's cast of beloved supporting characters, including Frank's Faux Pa and the diminutive, mailbox-like Pupshaw and Pushpaw; it is both a fully independent story that is a great introduction to Woodring's world, and a sublime addition to, and extension of, the Frank stories.
Weathercraft will be a defining graphic novel of 2010.
Praise For Weathercraft: A Frank Comic…
Over the last few decades, Jim Woodring has been drawing a series of wordless, blissfully cruel slapstick fables, set in a world of grotesque entities and psychedelic minarets: half unshakable nightmare, half Chuck Jones cartoon filtered through the Bhagavad Gita.
— Douglas Wolk - The New York Times Book Review

Starred Review. A book that sticks with you like a virus, Woodring's newest collection of tales of vague morality and definite oddity keeps intact his status as one of comics most eccentric auteurs.
— Publishers Weekly

There's a consistent internal logic at work, and [Woodring's] cartoony-but-detailed drawing style, loaded with surreal imagery (think Walt Disney meets Carlos Castaneda) is the ideal vehicle to convey this hauntingly peculiar tale. … Over the past two decades Woodring has created a dense and distinctive universe, and Weathercraft is perhaps its most rewarding portrayal yet.

— Booklist

There's not much point in trying to sum up the story of this comic. There's no text, the art is beautiful, and you're totally consumed by the world he's created and you exist inside it while you're reading it.
— Nick Gazin - Vice

Part theater of cruelty, part joyous liberating revolution, Jim Woodring's freakishly beautiful Weathercraft is at once the most direct and most elliptical of his Frank comics that I can remember reading.

— Sean T. Collins - Attentiondeficitdisorderly

Without a single word, Woodring tells an enormous tale of redemption and heartbreak. Weathercraft crackles with the power of myth, and it extends far beyond its pages with a life of its own… You've never read anything quite like Weathercraft, but at the same time it feels eerily familiar, like a dream you had last night.

— Paul Constant - The Stranger

Weathercraft paints small moments of beauty and mystery on a huge canvas of twisted wonder.

— Jason Michelitch - Comics Alliance

The Frank stories have a meditative, hallucinatory feel... They tap into a universal consciousness of archetypes. But
ultimately Frank tells one story, everyone's story, the same story as life: 'How Laughably Absurd It All Is.'
— Time.com

For those who find the work involving enough, Weathercraft will resonate with them on some emotional level — there's moments that unnerve, moments that touch — and while it is an immersive experience, the comic, especially in its hardcover form, operates most like a testimony of events.

— Tucker Stone - comiXology

It's better to experience Woodring's work than to try and understand it. …Weathercraft is mainly about how Manhog — and by extension the reader — sees how sick, freaky, and beautiful the world can be… [Grade:] A-.

— The Onion A.V. Club

With Woodring's skill, I never found myself confused [by Weathercraft], at least, more than you're supposed to be. … In one graphic novel, I got what I think may have been a love story, a treatise on spiritual enlightenment and sometimes just a whole lot of fun.

— Joe Keatinge - Neon Monster

The work, which centers on the evolutionary and spiritual journey of Manhog, is breathtakingly original, and looking at it just brings home to me how timid many of us in [the cartooning] business are.
— Rod McKie

Superb.
— Douglas Wolk - TIME/Techland

To go into Weathercraft is like sticking your head deep in a witches' pot and letting your brain cook slowly. It is an attack that has the ability to flush from the visual into your other senses, it is like to smell and hear and above all feel with the eyes, synesthesia in cartoon form.

— Janus Andersen - tegneseriesiden [Denmark]

Woodring is fantastic... his stuff will outlast all
but one in a thousand of his peers. His stuff is a
revelation.
— Scott McCloud, author of Understanding Comics

The ancient myths and folk tales of all cultures
which have been preserved for so many centuries
have meaning for us today because the fantastic
elements in them are rooted in immutable
reality. The Frank stories belong to this class of
literature.
— Francis Ford Coppola

[Woodring] has been called one of the great cartoonists of his generation and at this point, there's little doubt of his visual storytelling prowess. But it's the intense, visionary images and worlds that spring from his mind and on to his pages that truly separates him from his peers.
— Paul Rios
Fantagraphics, 9781606993408, 104pp.
Publication Date: June 8, 2010
About the Author
Jim Woodring lives on Vashon Island in Washington State's Puget Sound with his wife, Mary. The recipient of numerous rewards—including a Genius Award—he is an animator and a fine artist as well as a cartoonist.
or
Not Currently Available for Direct Purchase