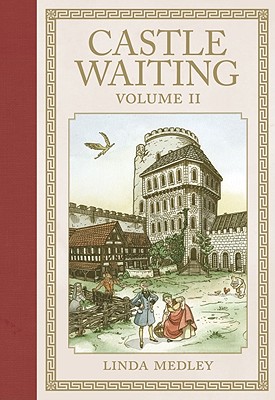 Castle Waiting
Hardcover

* Individual store prices may vary.
Other Editions of This Title:
Paperback (1/18/2013)
Hardcover (5/17/2013)
Description
The long-awaited return to Castle Waiting!
With its long-awaited second volume, Linda Medley's witty and sublimely drawn fantasy eases into a relaxed comedy of manners as Lady Jain settles into her new life in Castle Waiting.
Unexpected visitors result in the discovery and exploration of a secret passageway, not to mention an epic bowling tournament. A quest for ladies' underpants, the identity of Pindar's father, the education of Simon, Rackham and Chess arguing about the "manly arts," and an escape-prone goat are just a few of the elements in this delightful new volume.
The book also includes many flashbacks that deepen the stories behind the characters, including Jain's earliest romantic entanglements and conflicts with her bratty older sisters, the horrific past of the enigmatic Dr. Fell, and more.
Praise For Castle Waiting…
Castle Waiting creates a vibrant fantasy world not unlike The Lord of the Rings' Middle-earth but with a focus on the lives of women. Gorgeously illustrated in black and white, fun to read and look at, Castle Waiting will enthrall fantasy readers of both genders.

— Time

Starred Review. Medley's art is both exquisitely detailed and fantastically lighthearted.
Though appropriate for all ages, this one-of-a-kind graphic novel is likely
to appeal most to smart women in their 20s and older and to any man who
believes in feminism and knows how to laugh.
— Publishers Weekly

There's a clear salute to the power of sisterhood in Castle Waiting's stories of battered and exploited women banding together with kindly men to make a new world... The Castle Waiting castle draws people looking for a safe place to rest. The Castle Waiting book draws readers looking for much the same. Club rating: A-.

— The Onion A.V. Club

Medley's big book ranks with Jeff Smith's Bone as a nearly-all-ages graphic-novel triumph.

— Booklist

Medley's storytelling... uses flashbacks and stories-within-stories
in a manner that creates a rhythm that is both fun and
gripping. Hard-edged lines with simple forms create black-and-white
artwork that melds nicely with the fairy-tale feel of the
stories. This volume is accessible for younger readers but filled
with enough layers and depth to satisfy those looking for a bit
more sophistication.
— School Library Journal

The true strength of Castle Waiting… is Medley's gorgeous art. The characters are perfect, distinctive and expressive, and the storytelling so strong you don't even notice it. […] When I close the cover, it's always a melancholy action, because I want more time with these people, more adventures, more humor and good-heartedness.

— Johanna Draper Carlson - Comics Worth Reading

A wryly funny fairy tale narrative that's both women-centered
and women-powered.
— NPR
Fantagraphics, 9781606994054, 384pp.
Publication Date: December 6, 2010
About the Author
Linda Medley lives in Portland, OR, where she is currently working on the Castle Waiting series.
or
Not Currently Available for Direct Purchase