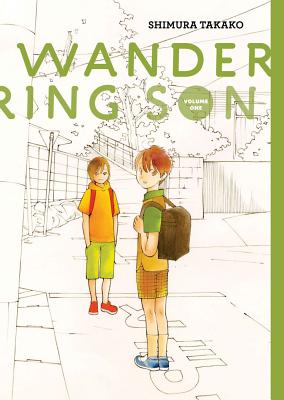 Wandering Son
Volume One
Hardcover

* Individual store prices may vary.
Other Editions of This Title:
Hardcover (1/18/2014)
Hardcover (11/2/2013)
Hardcover (9/7/2014)
Hardcover (6/7/2015)
Hardcover (6/15/2013)
Hardcover (7/16/2012)
Hardcover (1/2/2012)
Description
A sensitive masterprice from Japan's most prominent creator of LGBT manga.
The fifth grade. The threshold to puberty, and the beginning of the end of childhood innocence. Shuichi Nitori and his new friend Yoshino Takatsuki have happy homes, loving families, and are well-liked by their classmates. But they share a secret that further complicates a time of life that is awkward for anyone: Shuichi is a boy who wants to be a girl, and Yoshino is a girl who wants to be a boy. Written and drawn by one of today's most critically acclaimed creators of manga, Shimura portrays Shuishi and Yoshino's very private journey with affection, sensitivity, gentle humor, and unmistakable flair and grace. Book One introduces our two protagonists and the friends and family whose lives intersect with their own. Yoshino is rudely reminded of her sex by immature boys whose budding interest in girls takes clumsily cruel forms. Shuichi's secret is discovered by Saori, a perceptive and eccentric classmate. And it is Saori who suggests that the fifth graders put on a production of
The Rose of Versailles
for the farewell ceremony for the sixth graders — with boys playing the roles of women, and girls playing the roles of men.
Wandering Son
is a sophisticated work of literary manga translated with rare skill and sensitivity by veteran translator and comics scholar Matt Thorn.
Praise For Wandering Son: Volume One…
In the series' debut-in-English, Shimura treats both protagonists' journeys of self-discovery with gentle honesty; her characters are wide-eyed and adorable, uncertain and searching.
— Terry Hong - BookDragon (Smithsonian Asian Pacific American Program)

Shimura balances a full plate in this story, all the while offering it with the kind of easy grace that makes the balance appear to be almost magical.... In Shimura's sympathetic hands, this manga is neither gag nor message heavy: both main characters, their peers, and their family members are credible and developed with enough depth that readers can think about them beyond the bounds of the book. ...[Wandering Son Vol. 1] belongs in every high school library, as well as in public collections that are accessible to both youth and adults.

— Francisca Goldsmith - School Library Journal

What makes Wandering Son work is its slow-burn pace and calm atmosphere. It takes a delicate subject – transgender children- and explores it slowly and carefully. Much like its characters, it moves at its own pace, easing the reader into the characters' lives.

— Shannon Fay - Kuriousity

...Shimura Takako is a master at portraying subtle events in a slice of life story about adolescence that never feels didactic.... Like the storyline, Shimura's art is simple but nuanced.... As you'd expect from Fantagraphics, the production quality for Wandering Son is excellent.

— Anna Neatrour - Manga Report

Wandering Son is an important manga series, much celebrated for the sensitive treatment of its two young transgender protagonists. It offers nuanced portrayals of these two middle schoolers, their friends, and their families. The tone is sweet, gentle, and hopeful, making it a pleasant reading experience. At the same time, it doesn't turn away from realistic issues like bullying and the pain of experiencing puberty when your body already doesn't match the way you feel inside.

— Nic Willcox - No Flying No Tights
Fantagraphics, 9781606994160, 192pp.
Publication Date: July 5, 2011
About the Author
Shimura Takako lives in Tokyo, Japan.

Rachel Thorn is from in Lansdale, Pennsylvania. She is a cultural anthropologist, writer, and an associate professor in the manga department at Kyoto Seika University. Her translations include the New York Times Best-Seller Nijigahara Holograph by Inio Asano and Hayao Miyazaki's Nausicaä of the Valley of the Wind.
or
Not Currently Available for Direct Purchase