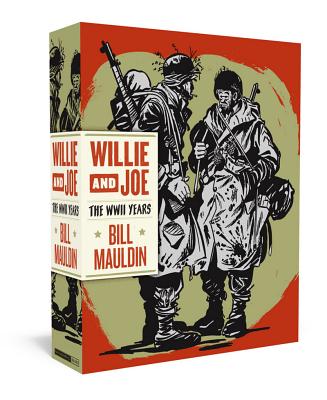 Willie & Joe (Paperback)
The WWII Years
Fantagraphics, 9781606994399, 704pp.
Publication Date: August 3, 2011
* Individual store prices may vary.
Description
The definitive collection of the complete WWII cartoons of the greatest cartoonist of the Greatest Generation, now in paperback.
During WW II, the closest most Americans ever came to combat was through the cartoons of Bill Mauldin, the most beloved enlisted man in the U.S. Army.
This new paperback edition of the 2008 two-volume, deluxe hardcover set brings together Mauldin's complete works from 1940 through the end of the war under one cover. This collection of over 600 cartoons, most never before reprinted, is more than the record of a great artist: it is an essential chronicle of America's citizen-soldiers from peace through war to victory.
Bill Mauldin knew war because he was in it. He had created his characters, Willie and Joe, at age 18, before Pearl Harbor, while training with the 45th Infantry Division and cartooning part-time for the camp newspaper. His brilliant send-ups of officers were pure infantry, and the men loved it. Mauldin's cartoons and captions recreated on paper the fully realized world of the American combat soldier.
Willie & Joe
is edited by Todd DePastino, Mauldin's official biographer.
Willie & Joe
contains an introduction and running commentary by DePastino, providing context for the drawings, pertinent biographical details of Mauldin's life, and occasional background on specific cartoons (such as the ones that made Patton howl).
About the Author
Born in 1921, Bill Mauldin squeezed several lifetimes into his eighty-one years. In addition to cartooning, he acted in Hollywood movies, ran for Congress, piloted airplanes, wrote several books and hundreds of articles, and won two Pulitzer Prizes, the first for his wartime cartoons. He died in 2003.

Todd DePastino is the author of Citizen Hobo: How a Century of Homelessness Shaped America and Bill Mauldin: A Life Up Front, and the editor of the cartoon collections Willie & Joe: The WWII Years and Willie & Joe: Back Home. He teaches history and writes and lives in Pittsburgh, Pennsylvania.
Praise For Willie & Joe: The WWII Years…
Bill Mauldin was my first artist hero, and Willie & Joe: The WWII Years reminds me why.

— Steven Heller

These gritty, existential cartoons—everything Mauldin published during the war that still exists is compiled here—are the real deal and then some.
— Laurel Maury

Mauldin's characters were bluntly honest: War was dirty, absurd, bitter hardwork.
— Todd Leopold

Mauldin's drawings of his muddy, exhausted, whisker-stubbled infantrymen Willie and Joe were the voice of truth about what it was like on the front lines.
— Bob Greene

[An] amazing and beautiful collection.
— Rick Kogan

There's a sad wisdom on virtually every page here.
— Jeff Salamon

First and foremost, Willie & Joe are funny. …[I]t's an absorbing glimpse into the day to day life of soldiers while it was happening and the end not known. It's easy to identify with: employees in any capacity gripe about their bosses. But the more specific Mauldin is, the more biting and fascinating his work is.
— Michael Giltz

This compilation of his cartoons helps bring Mauldin's talent and his life at the front lines both to historians and a new generation.
— Samuel M. Baker

Many World War II veterans would surely appreciate seeing these strips again, and anyone who studies that conflict ought to be fascinated by Mauldin's unglamorous take on the drudgery, fear and absurdity of Army life.
— David Allen

Cartoonist Bill Mauldin was a genius at bringing the experiences of World War II home to the moms and dads, kids, wives or girlfriends of the GIs on the front lines in a very human way. ... To my knowledge, none of our wars since has produced a chronicler anywhere near the greatness of Mauldin.
— Wesley G. Hughes

The cartoonist's humanistic brush paints a sober picture of war that a newscamera can never achieve. These GIs resonate with real pathos; eachcartoon, however jocular, emanates weariness and resignation.
— James Sturm

Willie & Joe is an extraordinarily compiled and presented tribute to Bill Mauldin, the two-time Pulitzer Prize winning cartoonist who chronicled life in the U.S. Army from 1940 to 1945. The set is bound in army green canvas and typeset in the font of an old manual typewriter, the kind an army clerk might have used during the Second World War. The collection is a sensory delight, pleasing to touch and beautiful to see. ... For the winner of two Pulitzer Prizes, for the man who was once America's most celebrated enlisted man, Willie & Joe is a fitting, and wonderful, tribute.

— David Mitchell

[A] terrific two-volume collection of the legendary Bill Mauldin's 'GI Joe' cartoons from 'the last good war'... Fantagraphics gives us a comprehensive collection of the cartoons that fellow enlisted man Mauldin created during the war, both for civilians and fellow soldiers alike... [T]his compendium is both a great time capsule, and a fitting tribute to an American original.
— Mark London Williams

Mauldin was arguably the greatest war correspondent of his day.
— Steven Grant

This collection of all of Mauldin's World War II work stands out…a worthy platform for a series of brilliant strips drawn with a lively hand.
— Rob Clough