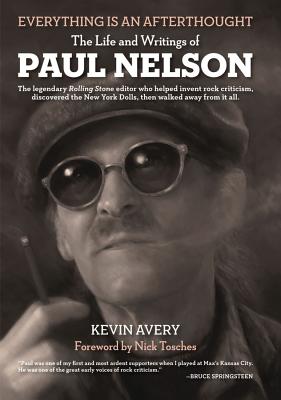 Everything Is an Afterthought
The Life and Writings of Paul Nelson
Hardcover

* Individual store prices may vary.
Description
A pioneering Rolling Stone critic gets his due.
What happened to Paul Nelson? In the '60s, he pioneered rock & roll criticism with a first-person style of writing that would later be popularized by the likes of Tom Wolfe and Norman Mailer as "New Journalism." As co-founding editor of
The Little Sandy Review
and managing editor of
Sing Out!,
he'd already established himself, to use his friend Bob Dylan's words, as "a folk-music scholar"; but when Dylan went electric in 1965, Nelson went with him.
During a five-year detour at Mercury Records in the early 1970s, Nelson signed the New York Dolls to their first recording contract, then settled back down to writing criticism at Rolling Stone as the last in a great tradition of record-review editors that included Jon Landau, Dave Marsh, and Greil Marcus. Famously championing the early careers of artists like Bruce Springsteen, Jackson Browne, Rod Stewart, Neil Young, and Warren Zevon, Nelson not only wrote about them but often befriended them. Never one to be pigeonholed, he was also one of punk rock's first stateside mainstream proponents, embracing the Sex Pistols and the Ramones.
But in 1982, he walked away from it all —
Rolling Stone
, his friends, and rock & roll.  By the time he died in his New York City apartment in 2006 at the age of seventy — a week passing before anybody discovered his body — almost everything he'd written had been relegated to back issues of old music magazines.
How could a man whose writing had been so highly regarded have fallen so quickly from our collective memory? With Paul Nelson's posthumous blessing, Kevin Avery spent four years researching and writing
Everything Is an Afterthought: The Life and Writing of Paul Nelson
. This unique anthology-biography compiles Nelson's best works (some of it previously unpublished) while also providing a vivid account of his private and public lives. Avery interviewed almost 100 of Paul Nelson's friends, family, and colleagues, including several of the artists about whom he'd written.
Praise For Everything Is an Afterthought: The Life and Writings of Paul Nelson…
Kevin Avery has done something heroic here.  Avery has rescued the work and the passion, the life and the meaning of the great Paul Nelson.  Nelson was a deep and beautiful writer, mysterious and painstaking and brilliant.  Thanks to Avery and Everything Is an Afterthought, Paul Nelson's work finally has a home.  This wonderful writing is here for the faithful, and now forever available for new fans who'll never forget him.

— Cameron Crowe, writer-director of Almost Famousand Jerry Maguire

This book beautifully balances Paul Nelson's life and work, the struggling man and the gifted craftsman.  Its Nelson is equal parts Hammett and Bartleby, a connoisseur and a Coke-head, possessed of wisdom and uniquely self-destructive.  That Paul's actual writing makes up half the book takes nothing away from Kevin Avery's scrupulous reporting and remarkable empathy with his subject.  I don't know if the story of my friend and mentor, colleague and neighbor will break your heart.  But that's exactly what it did to mine, and in a way that leaves me grateful.
— Dave Marsh, author and SiriusXM radio show host

Paul was his own kind of subterranean—disappearing around corners on the surface, thinking his way through the catacombs beneath it. He cultivated his obsessions over decades, until he could pass on the glow they gave off for him to other people.  He left behind more than one ghost, and many of them are in this book.
— Greil Marcus, author of Like a Rolling Stone: Bob Dylan at the Crossroads

Paul Nelson's life was a fierce quiet drama of devotion to culture, with a run of triumphs along the way to a slow-motion tragedy.  This book restores the triumphs of his writing to a conversation that may not have known, or remembered, what it was missing.  That alone would make this book essential; the biographical research, the unpublished pieces, and the photographs make it a human saga as well, as heartbreaking as the novel or film Nelson never managed to write.  The whole thing proceeds out of Kevin Avery's own quiet devotion, for which I can hardly express my gratitude.
— Jonathan Lethem, author of Chronic City and Motherless Brooklyn

If it wasn't for Kevin Avery, the life and work of one of the world's first and greatest rock writers might otherwise have remained scattered in time and space. Written and compiled with intelligence, meticulousness, and passion, Everything Is an Afterthought is simultaneously a moving biography, a classic criticism anthology, an earnest expression of fandom, and, most importantly, an overdue addition to the canon of essential rock books.

— Neil Strauss, author of The Gameand Everyone Loves You When You're Dead

Nelson, who died in 2006 at age 69, was part of the first generation of rock critics, instrumental in bringing attention to musicians including Bob Dylan, Jackson Browne, New York Dolls and Warren Zevon. The book is both an anthology of his best writing and a tragic recounting of a life that shut down too soon.
— Ken Tucker - Fresh Air (NPR)

Avery has crafted both a cautionary tale and a celebration of a noir-influenced writer who deserves a place alongside Lester Bangs for his ability to live, always, in the music. Devotees of folk, establishment rock 'n' roll, and pulp fiction will rue not having discovered Nelson sooner.
— Heather ­McCormack - Library Journal (Starred Review)

...Kevin Avery's Everything Is an Afterthought... chronicles the dramatic life of one of music's keenest observers, Paul Nelson, and curates his finest critiques.... I read and adored [Nelson] growing up, but reading [him] in the context of today's critical standards gave me the literary equivalent to the bends. It goes without saying that, in the age of the Internet, the whole idea of a critic has changed.

— Jim Farber - New York Daily News

This volume is exhilarating. Avery tells with great energy Nelson's tale, with copious details about the active period of his subject's life, and in so doing limns a portrait of a certain kind of pop-culture/bohemian existence in the late-70s. And Avery's generous selection of Nelson's writings are certainly among Paul's best...

— Ken Tucker (Entertainment Weekly) - The Best American Poetry

Avery's book… is an admirably unorthodox construction... What's impressive about Avery's biographic half of the book is that he's produced both an intimate personal bio and a comprehensive professional bio as well.
— Joe Carducci (Author of Rock and the Pop Narcotic) - The New Vulgate

The fiery, literate pop­-music writing [Nelson] developed soon crystallized — and probably helped elevate — the standards of the work he wrote about. . .the rock world came to think of its music as an art when serious critics started treating it like one.... His significance as a maker of ardent and crafty (if parochial) rock writing is clear from the testimonies by critics and musicians in the biographical sections of Everything Is an Afterthought.

— David Hajdu - The New York Times Book Review

With [this book], one of the most thoughtful, soulful, and articulate writers on music in the 60s and 70s has been revived.
— Bob Nickas - Vice

Avery crafts a biography of a largely self­-taught thinker who immersed himself in his passions, whether that meant classic film, the detective fiction. . . or folk music. The author allows his subject to develop primarily through oral history, as his friends and contemporaries recall a quirky iconoclast. . . But the book is most compelling simply by bringing Nelson's own distinctive writing voice to a new generation . . . and a commitment to understanding what artists were trying to accomplish.
— Scott Renshaw - City Weekly

Music book of the year … [T]he thing I really appreciate in reading Paul's writings is you get to a place where even if you disagree with him you want to really explore why… That's what great rock writers do -- they send you to the music. Of all the books I've read this year, Everything Is an Afterthought is the one that has meant the most to me.

— Marc Campbell - Dangerous Minds

...[I]n this insightful and riveting biography, Avery has brought the flat-capped, sunglassed, mustachioed, Nat Sherman-smoking, hamburger eating, and Coca-Cola guzzling wordsmith back to life; a writer as fascinating -- and frustrating -- as many of his interview subjects.

— Bob Ruggiero - Houston Press

Everything Is an Afterthought presents a vision of the heyday of rock journalism, times that have long past.... The story Kevin Avery tells is of someone who believed passionately in the art that moved him...

— Alex Rawls - Offbeat

Kevin Avery has compiled an incredibly thorough account of one of folk and rock music's most important critics of the 20th Century: Paul Nelson. Nelson is . . . also a true writer who loved his subject matter possibly more than anything else. After reading, I felt that I knew more about Nelson than simply his life's accomplishments — I knew him as the man he was....
— Chris Proctor - SLUG Magazine

...Nelson wrote like Fitzgerald or O'Connor, his prose full of god and anxiety... I'm not kidding when I say that you need to get on this ASAP if you do any music writing at all. It's the Scribes Sounding Off book of the year, in a pretty great year of them...

— Chris Estey - The KEXP Blog

This is a fascinating and moving story, not just of a life gone adrift but of the phenomenon of rock culture in the '60's and '70's and its accompanying commentary.... Paul Nelson wrote as if his existence depended on the meaning his musical heroes made of humanity.
— Barney Hoskyns - The Word

Nelson's writing is deeply personal, inviting readers into the relationships he had with the people he wrote about. Avery's biography similarly invites readers into Paul Nelson's life, lonely as it was.
— Matt Smith­Lahrman - New Books Network

…Everything Is an Afterthought: The Life and Writings of Paul Nelson [is] a deeply moving biography that captures not only Nelson's tragedy, but also celebrates the ardor and artistry of his life and work.

— Cullen Gallagher - Our Town Downtown

Kevin's biography, Everything Is an Afterthought, tells the whole sad story. It's heartbreaking as hell, but I couldn't put it down. Paul was a compelling and complex as any of the artists he wrote about — and just as talented.

— Cullen Gallagher - Pulp Serenade

Like the best critics, Nelson was primarily a fan of what he wrote about, subjects that struck a chord with him. And here's a bio and a collection of his work written by a fan of his.
— Robert O'Connor - Spike Magazine

Small wonder that Jonathan Lethem modeled Chronic City's protagonist on Nelson: Nelson's bohemian eccentricities... make his biography a… gripping read…

— Jonah Wolf - The College Hill Independent
Fantagraphics, 9781606994757, 512pp.
Publication Date: November 21, 2011
About the Author
Kevin Avery has published over 300 articles and short stories. His books include Everything Is an Afterthought: The Life and Writings of Paul Nelson and Conversations with Clint: Paul Nelson's Lost Interviews with Clint Eastwood, 1979 – 1983. He lives in Brooklyn, NY.
or
Not Currently Available for Direct Purchase