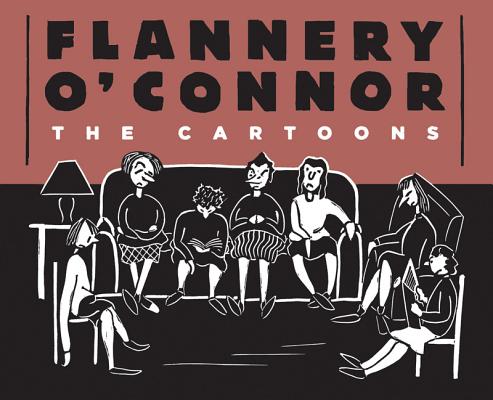 Flannery O'Connor
The Cartoons
Hardcover

* Individual store prices may vary.
Description
Before she became a literary legend, she wanted to be a cartoonist.
Flannery O'Connor was among the greatest American writers of the second half of the 20th century; she was a writer in the Southern tradition of Eudora Welty, William Faulkner, and Carson McCullers, who wrote such classic novels and short stories as
Wise Blood, The Violent Bear It Away
, and "A Good Man is Hard to Find." She is perhaps as well known for her tantalizing brand of Southern Gothic humor as she is for her Catholicism. That these tendencies should be so happily married in her fiction is no longer a surprise. The real surprise is learning that this much beloved icon of American literature did not set out to be a fiction writer, but a cartoonist. This seems to be the last well-kept secret of her creative life.
Flannery O'Connor: The Cartoons
, the first book devoted to the author's work in the visual arts, emphasizes O'Connor's most prolific period as a cartoonist, drawing for her high school and college publications in the early 1940s. While many of these images lampoon student life and the impact of World War II on the home front, something much more is happening. Her cartoons are a creative threshing floor for experimenting and trying out techniques that are deployed later with such great success in her fiction.
O'Connor learns how to set up and carry a joke visually, how to write a good one-liner and set it off against a background of complex visual narration. She develops and asserts her taste for a stock set of character types, attitudes, situations, exaggerations, and grotesques, and she learns how to present them not to distort the truth, but to expose her vision of it.
She worked in both pen & ink and linoleum cuts, and her rough-hewn technique combined with her acidic observations to form a visual precursor to her prose. Fantagraphics is honored to bring the early cartoons of this American literary treasure to a 21st century readership.
For an audience resistant to your views, O'Connor once wrote, "draw large and startling figures." In her fiction, as in her cartoons, these shocks to the system never come without a laugh.
Praise For Flannery O'Connor: The Cartoons…
She was a master of Southern Gothic literature... But in the early '40s, Flannery O'Connor drew raw and biting comics, which are now collected in Flannery O'Connor:The Cartoons. Mostly tackling school and propriety, they're a pitch­-black hoot.

— Culture

The images – rendered in black­-and­-white in a stylistically wobbly hand – demonstrate the thinly veiled dark humor and snappy dialogue O'Connor would come to perfect in her short stories. She was often the butt of her own jokes: the none­-too­-perfect girl. . . An engrossing and entertaining look at the blossoming talents of one of literature's great iconoclasts.
— Under the Radar
Fantagraphics, 9781606994795, 144pp.
Publication Date: July 16, 2012
About the Author
Flannery O'Connor was born in 1925 and died in 1964 after spending her life in Georgia.

Barry Moser (born 1940) is a renowned artist, most famous as a printmaker and illustrator of numerous works of literature, including Lewis Carroll's Alice's Adventures in Wonderland and Through the Looking- Glass, The Bible and Moby-Dick. He is a Professor in Residence and Printer to the College at Smith College. His works have been displayed in such places as the British Museum, the Metropolitan Museum, Harvard, and the Library of Congress. He lives in Western Massachusetts.

An independent scholar specializing in the literature of the American South, Kelly Gerald holds B.S., M.A., and Ph.D. degrees in English as well as a second Master's degree in philosophy and religion. Her previous publications include work on Flannery O'Connor, Eudora Welty, William Faulkner, and Cormac McCarthy. Kelly works as senior writer-editor and director of media relations for the Phi Beta Kappa Society in Washington, D.C. and part-time as an Associate Professor of English for University of Maryland University College.
or
Not Currently Available for Direct Purchase