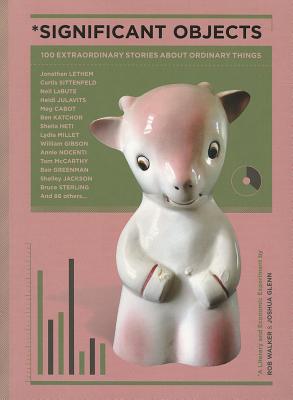 Significant Objects (Paperback)
Fantagraphics Books, 9781606995259, 256pp.
Publication Date: August 6, 2012
* Individual store prices may vary.
Description
100 EXTRAORDINARY STORIES ABOUT ORDINARY THINGS
SIGNIFICANT OBJECTS: A Literary and Economic Experiment
Can a great story transform a worthless trinket into a significant object? The Significant Objects project set out to answer that question once and for all, by recruiting a highly impressive crew of creative writers to invent stories about an unimpressive menagerie of items rescued from thrift stores and yard sales.
That secondhand flotsam definitely becomes more valuable: sold on eBay, objects originally picked up for a buck or so sold for thousands of dollars in total -- making the project a sensation in the literary blogosphere along the way.
But something else happened, too: The stories created were astonishing, a cavalcade of surprising responses to the challenge of manufacturing significance. Who would have believed that random junk could inspire so much imagination?
The founders of the Significant Objects project, that's who. This book collects 100 of the finest tales from this unprecedented creative experiment; you'll never look at a thrift-store curiosity the same way again.
FEATURING ORIGINAL STORIES BY: Chris Adrian - Rob Agredo - Kurt Andersen - Rachel Axler - Rob Baedeker - Nicholson Baker - Rosecrans Baldwin - Matthew Battles - Charles Baxter - Kate Bernheimer - Susanna Breslin - Kevin Brockmeier - Matt Brown - Blake Butler - Meg Cabot - Tim Carvell - Patrick Cates - Dan Chaon - Susanna Daniel - Adam Davies - Kathryn Davis - Matthew De Abaitua - Stacey - D'Erasmo - Helen DeWitt - Doug Dorst - Mark Doty - Ben Ehrenreich - Mark Frauenfelder - Amy Fusselman - William Gibson - Myla Goldberg - Ben Greenman - Jason Grote - Jim Hanas - Jennifer Michael Hecht - Sheila Heti - Christine Hill - Dara Horn - Shelley Jackson - Heidi Julavits - Ben Katchor - Matt Klam - Wayne Koestenbaum - Josh Kramer - Kathryn Kuitenbrouwer - Neil LaBute - Victor LaValle - J. Robert Lennon - Jonathan Lethem - Todd Levin - Laura Lippman - Mimi Lipson - Robert Lopez - Joe Lyons - Sarah Manguso - Merrill Markoe - Tom McCarthy - Miranda Mellis - Lydia Millet - Maud Newton - Annie Nocenti - Stephen O'Connor - Stewart O'Nan - Jenny Offill - Gary Panter - Ed Park - James Parker - Benjamin Percy - Mark Jude Poirier - Padgett Powell - Bob Powers - Todd Pruzan - Dan Reines - Nathaniel Rich - Peter Rock - Lucinda Rosenfeld - Greg Rowland - Luc Sante - R.K. Scher - Toni Schlesinger - Matthew Sharpe - Jim Shepard - David Shields - Marisa Silver - Curtis Sittenfeld - Bruce Sterling - Scarlett Thomas - Jeff Turrentine - Deb Olin Unferth - Tom Vanderbilt - Matthew J. Wells - Joe Wenderoth - Margaret Wertheim - Colleen Werthmann - Colson Whitehead - Carl Wilson - Cintra Wilson - Sari Wilson - Douglas Wolk - John Wray
or
Not Currently Available for Direct Purchase