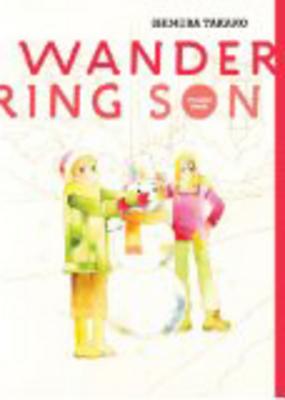 Wandering Son
Volume Three
Hardcover

* Individual store prices may vary.
Other Editions of This Title:
Hardcover (1/18/2014)
Hardcover (11/2/2013)
Hardcover (9/7/2014)
Hardcover (6/7/2015)
Hardcover (6/15/2013)
Hardcover (1/2/2012)
Hardcover (7/5/2011)
Description
A sensitive, sophisticated work of literary manga.
As shown in the first two volumes of this acclaimed series, Shuichi and his friend Yoshino have a secret: Shuichi is a boy who wants to be a girl, and Yoshino is a girl who wants to be a boy.
But one day, abruptly, their secret is exposed, and the two find themselves the target of sixth-grade cruelty. Their friendship is strained, as Yoshino makes a half-hearted effort at being a "normal girl"... and their mentor, Yuki, reveals the harder reality of being transgendered. Meanwhile, Shuichi's sister, Maho, realizes her dream of becoming a model, and drags Shuichi along for the ride. Shuichi meets another boy who wants to be a girl, and finds himself on an arranged date with a boy who doesn't know that the girl he has a crush on was born a boy.
After an unhurried, almost leisurely buildup that gave us an opportunity to get to know and understand our protagonists, artist Shimura picks up the pace in this latest volume, with tears and laughs aplenty. A sophisticated work translated with rare sophistication by veteran translator and comics scholar Matt Thorn.
Praise For Wandering Son: Volume Three…
Transsexuality is often used in manga for laughs or escapism, but Wandering Son is one of the few manga I've read that takes its subject matter seriously. Shimura Takako is known for drawing LGBT-friendly manga, and... in Wandering Son she sympathetically and subtly depicts two young people who are transsexuals, or at least have transsexual leanings....It's a tasteful psychological portrait, with a lot of unexpected little meanders and detours... and a pleasant lack of either over the-top tortured drama or polemic speeches about the subject matter. Just wandering along the road of adolescence, watching our heroes discover themselves, is fascinating enough. Recommended.
— Otaku USA

...[L]ike the best coming-of-age stories — comics or otherwise — Wandering Son is meticulously accurate in its details, but universal in its emotions. Gay or not, readers shouldn't find it too difficult to identify with kids who feel like their bodies and their friends are equally culpable in the worst kind of betrayal, preventing them from realizing the potential they see in themselves.

— The Onion's A.V. Club

Wandering Son is an important manga series, much celebrated for the sensitive treatment of its two young transgender protagonists. It offers nuanced portrayals of these two middle schoolers, their friends, and their families. The tone is sweet, gentle, and hopeful, making it a pleasant reading experience. At the same time, it doesn't turn away from realistic issues like bullying and the pain of experiencing puberty when your body already doesn't match the way you feel inside.

— Nic Willcox - No Flying No Tights
Fantagraphics, 9781606995334, 200pp.
Publication Date: July 16, 2012
About the Author
Shimura Takako lives in Tokyo, Japan.

Rachel Thorn is from in Lansdale, Pennsylvania. She is a cultural anthropologist, writer, and an associate professor in the manga department at Kyoto Seika University. Her translations include the New York Times Best-Seller Nijigahara Holograph by Inio Asano and Hayao Miyazaki's Nausicaä of the Valley of the Wind.
or
Not Currently Available for Direct Purchase