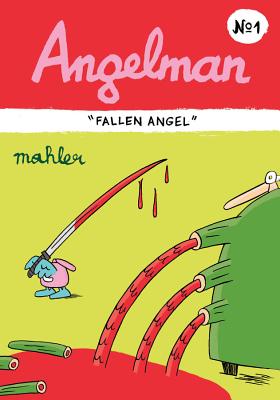 Angelman (Hardcover)
"Fallen Angel"
Fantagraphics, 9781606995341, 96pp.
Publication Date: June 11, 2012
* Individual store prices may vary.
Description
Hilariously wry full-color super hero satire.
Easily the funniest super-hero comic to come down the pike since Harvey Kurtzman and Wally Wood's "Superduperman!," Angelman is Austrian cartoonist Nicolas Mahler's sardonic take on super-heroes, their fans, the businessmen behind them, the current media obsession with them, not to mention fancy-ass "Ultimate" collections of dopey super-hero comics.
Created by Korporate Comics in a flash of money-grubbing cynicism appalling even by their standards, Angelman's powers (which include empathy and the ability to be a good listener) prove less than adequate to deal with the sinister threat of the insane plastic-surgeon villain Gender Bender — or for that matter with the fickleness of fashion, the rapacious super-heroine Lady Dentata, the increasingly desperate re-boot attempts by Korporate Comics, his oddly twin-like wife, a disastrously bad movie adaptation that single-handedly brings the vogue for super-hero movies to a screeching halt… all delineated in Mahler's trademarked ultra-minimalism (albeit this time in spectacular color), and with his drier-than-dry wit.
Includes a special checklist/price list of Angelman comics, a gallery, and extensive historical and explanatory footnotes by the author, this book will occupy a place of pride on the bookshelf of any comic book geek — or anyone who just likes hilarious comics.
About the Author
If you search for Nicolas Mahler's name on Wikipedia you are asked, "Do you mean Nicolas Mahut?" This book should change that. Mahler is an Austrian cartoonist and animator whose work was previously seen in English in MOME magazine, as well as two books from Top Shelf Comics: Van Helsing's Night Out and Lone Racer. He lives, works, and broods in Vienna.

Kim Thompson (1956-2013) was born in Copenhagen, Denmark. He was the co-publisher of Fantagraphics Books and a champion of alternative and global comics. He lived in Seattle, WA, with his wife, Lynn, and their dog.
Praise For Angelman: "Fallen Angel"…
Nicolas Mahler's childishly cute drawings put an adorable face on a satire with a pretty deep cynicism with the superhero comics industry.... Mahler's points about corporate art certainly don't aim for subtlety, but that doesn't make them any less true, and a droll sense of humour keeps things from getting too preachy.
— David Berry

...Mahler's little squiggly characters are adorable, and his gags are genuinely funny. . .Angelman is a satire, yes, but it also revels to some extent in the goofiness of revamps, retcons, and all the other gimmicks that keep mainstream comics afloat.

— Noel Murray
or
Not Currently Available for Direct Purchase