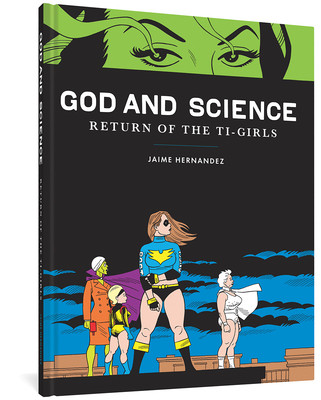 God and Science
Return of the Ti-Girls (Love and Rockets)
Hardcover

* Individual store prices may vary.
Description
The "director's cut" edition of the sprawling super-hero epic from Love and Rockets.
Originally serialized in Love and Rockets New Stories, "Ti-Girls Adventures" managed to be both a rollickingly creative super-hero joyride (featuring three separate super-teams and over two dozen characters) that ranged from the other side of the universe to Maggie's shabby apartment, and a genuinely dramatic fable about madness, grief, and motherhood as Penny Century's decades-long quest to become a genuine super-heroine are finally, and tragically, fulfilled.
In addition to introducing a plethora of wild new characters, God and Science brings in many older characters from Jaime's universe, some from seemingly throwaway shorter strips and some from Maggie's day-to-day world (including some real surprises). The main heroine of the story, forming a bridge between the "realistic" Maggie stories and the super-heroic extravaganza is "Angel," Maggie's sweet-tempered and athletic new roommate and best friend, and now herself an aspiring super-heroine.
Aside from being presented in a large format that really displays Jaime Hernandez's stunning art, God and Science will be a "director's cut" version that includes a full 30 new pages in addition to the original 100-page epic, including four new full-color faux Ti-Girls covers, several expansions of scenes, an epilogue set back in Maggie's apartment, and a long fantasy/timewarp sequence that draws the focus back on Penny's awful predicament.
Fantagraphics, 9781606995396, 144pp.
Publication Date: July 16, 2012
About the Author
Jaime Hernandez was one of six siblings born and raised in Oxnard, California. His mother passed down a love of comics, which for Jaime became a passion rivaled only by his interest in the burgeoning punk rock scene of 1970s Southern California. Together with his brothers Gilbert and Mario, Jaime co-created the ongoing comic book series Love and Rockets in 1981, which Gilbert and Jaime continue to both write and draw to this day. Jaime's work began as a perfect (if unlikely) synthesis of the anarchistic, do-it-yourself aesthetic of the punk scene and an elegant cartooning style that recalled masters such as Charles M. Schulz and Alex Toth. Love and Rockets has evolved into one of the great bodies of American literary fiction, spanning five decades and countless high-water marks in the medium's history. In 2016, Hernandez won the prestigious Los Angeles Times Book Prize for his graphic novel, The Love Bunglers. In 2017, he (along with Gilbert) was inducted into the Will Eisner Comic Book Hall of Fame, and, in 2018, he released his first children's book, the Aesop Book Prize-winning The Dragon Slayer: Folktales from Latin America. He is a lifelong Angeleno.
or
Not Currently Available for Direct Purchase