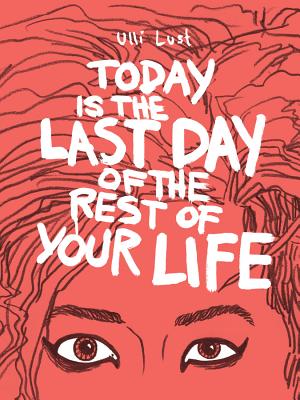 Today is the Last Day of the Rest of Your Life
Paperback

* Individual store prices may vary.
Description
A powerful debut graphic memoir.
Back in 1984, a rebellious,17-year-old, punked-out Ulli Lust set out for a wild hitchhiking trip across Italy, from Naples through Verona and Rome and ending up in Sicily. Twenty-five years later, this talented Austrian cartoonist has looked back at that tumultuous summer and delivered a long, dense, sensitive,and minutely observed autobiographical masterpiece.
Miraculously combining a perfect memory for both emotional and physical detail with the sometimes painful lucidity two and half decades' distance have brought to her understanding of the events, Lust meticulously shows the who, where, when, and how (specifically, how an often penniless young girl can survive for months on the road) of a sometimes dangerous and sometimes exhilarating journey. Particularly haunting is her portrait of her fellow traveler, the gangly, promiscuous devil-may-care Edi who veers from being her spunky, funny best friend in the world to an out-of-control lunatic with no consideration for anything but her own whims and desires.
Universally considered one of the very finest examples of the new breed of graphic novels coming from Europe, Today is the Last Day of the Rest of Your Life won the 2011 Angouleme "Revelation" prize, and Fantagraphics is proud to bring it to English speaking readers.
Praise For Today is the Last Day of the Rest of Your Life…
A youthful-looking 40-something now living in Berlin, Ulli Lust claims to have learned 'more on the streets than in the books'… varying the rhythm and framing of her panels, populating them with her subtly stylized characters, she provides an unvarnished vision of male-female relations in which violence, drugs and sex perform a diabolical dance. And even though there are flashes of humor, this relentless story remains focused on the frustration of men and the pain of women.
— Le Monde

A testament not only to how boldly Lust traveled, but also how far she's come as an artist.
— PRI

Lust takes readers inside her experiences, letting them feel how high hopes can devolve into raw survival.
— Noel Murray - The A.V. Club

...[A] sprawling, meditative graphic novel... [that] ripples with exuberance: [Lust] convincingly evokes her teenage feelings of fury and joy, and the small details of the way she experienced unfamiliar places for the first time.
— Douglas Wolk - The New York Times

There is a rejection of the organization of the world, from organized faith to organized crime. It is about the pursuit of nihilism as a route to integrity. Ulli Lust has the intelligence to look at her life and make a book of it.
— Eddie Campbell - (From Hell, Alec)

Great cartooning.
— Kevin Huizenga - (Ganges, Gloriana)

Told with great confidence and uncomfortable frankness across a sprawling 450 pages, it is a coming-of-age narrative that inevitably places itself in the tradition of German travel literature, perhaps unwittingly joining the company of such august figures as Goethe and Hesse.
— Matthias Wivel - The Metabunker
Fantagraphics, 9781606995570, 464pp.
Publication Date: June 15, 2013
About the Author
Ulli Lust was born in 1967 in Vienna, Austria. She lives and works in Berlin, Germany.

Kim Thompson (1956-2013) was born in Copenhagen, Denmark. He was the co-publisher of Fantagraphics Books and a champion of alternative and global comics. He lived in Seattle, WA, with his wife, Lynn, and their dog.
or
Not Currently Available for Direct Purchase