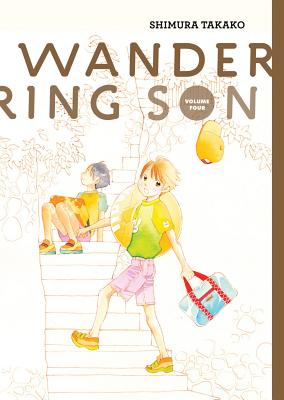 Wandering Son
Volume Four
Hardcover

* Individual store prices may vary.
Other Editions of This Title:
Hardcover (1/18/2014)
Hardcover (11/2/2013)
Hardcover (9/7/2014)
Hardcover (6/7/2015)
Hardcover (7/16/2012)
Hardcover (1/2/2012)
Hardcover (7/5/2011)
Description
In this manga, transgendered children cope with love complications as they enter high school.
Wandering Son
has garnered extensive praise (from the LGBTQ community, from manga fans, and from comics fans in general) for its uniquely funny, warm, and sensitive treatment of the travails of two Japanese tweens who find themselves coping with the knotty issue of gender identification, as they slowly realize that maybe they aren't who they were meant to be. In this latest volume, love is in the air. It's in the trees and on the streets. It's hanging on the walls and piled in great heaps on the floor. Or is it really love? These sixth and seventh graders don't really know. But something is definitely amiss. They can't sleep, and when they do sleep they have strange dreams. They get angry and cry, they blush and grin like idiots, for no reason. And it isn't even spring. But the standard rules apply: If A is in love with B, B is certain to be in love with C, and C is likely to be in love with D, or possibly A. And now it seems a good third of the alphabet is in love with our shy protagonist, Nitori-kun. But the flip-side of love is jealousy, and hate. The simple friendships of childhood develop into the complex, tense relationships of adolescence. Friends become strangers, or worse. But while everyone seems to have caught the bug, Volume 4 revolves solidly around the triangle of Nitori-kun, Takatsukisan, and Chiba-san. Yet centrifugal force seems to push the three away from each other, and there is a certain grimness as they say goodbye to elementary school, and put on the (highly gendered) uniforms of junior high school…
Praise For Wandering Son: Volume Four…
Wandering Son is an important manga series, much celebrated for the sensitive treatment of its two young transgender protagonists. It offers nuanced portrayals of these two middle schoolers, their friends, and their families. The tone is sweet, gentle, and hopeful, making it a pleasant reading experience. At the same time, it doesn't turn away from realistic issues like bullying and the pain of experiencing puberty when your body already doesn't match the way you feel inside.

— Nic Willcox - No Flying No Tights
Fantagraphics, 9781606996058, 200pp.
Publication Date: June 15, 2013
About the Author
Shimura Takako lives in Tokyo, Japan.

Rachel Thorn is from in Lansdale, Pennsylvania. She is a cultural anthropologist, writer, and an associate professor in the manga department at Kyoto Seika University. Her translations include the New York Times Best-Seller Nijigahara Holograph by Inio Asano and Hayao Miyazaki's Nausicaä of the Valley of the Wind.
or
Not Currently Available for Direct Purchase