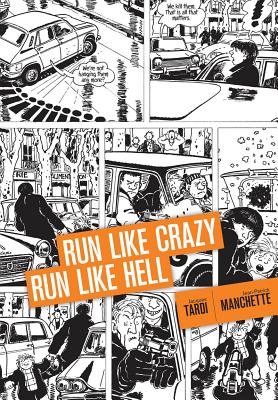 Run Like Crazy Run like Hell
Hardcover

* Individual store prices may vary.
Description
In the latest Machette-Tardi neo-noir graphic novel, an industrialist hires a nanny out of an asylum, planning to use her as a scapegoat; then things go horribly wrong.
After the teeth-rattling, one-two punch of
West Coast Blues
and
Like a Sniper Lining Up His Shot
, Jacques Tardi makes a third appointment with ace crime writer Jean-Patrick Manchette for his wildest adaptation yet. Michel Hartog, a rich industrialist, hires a troubled young woman, Julie, straight out of the psychiatric asylum to which she has been consigned for several years, to work as a nanny for his bratty nephew Peter. But Hartog's seemingly altruistic impulse to help rehabilitate a troubled soul hides a darker motive: He plans to stage a fake kidnapping of his nephew and use Julie as a scapegoat. Unfortunately for Hartog, Julie proves infinitely more tough and resourceful than he expected, the kidnapping goes horribly, bloodily wrong, and now Julie and Peter are on the run, pursued both by the police and by Hartog's goons, led by the aging but fantastically dangerous contract killer Thompson — one of Manchette's most unforgettable creations, a golem of Terminator-like tenacity who is barely slowed down by physical punishment that would instantly kill a lesser man (he does not end the book with the same amount of eyes and feet as he started). As with the other Tardi/Manchette books,
Run Like Crazy...
is full of moments of pitch-black humor, and a strong current of socio-political satire runs beneath its bleak surface. It's a ride to hell, but a devilishly fun one.
Praise For Run Like Crazy Run like Hell…
Tardi's atmospheric visuals, with their inky line work and solid compositions, are perfectly suited to Manchette's noirish milieu. The cartooniness of his figures, juxtaposed against the soundly realistic settings, perfectly matches the matter-of-factly over-the-top nature of this blackest of mordantly comedic capers.
— Gordon Flagg - Booklist

The French master Jacques Tardi's Run Like Crazy Run Like Hell is a model of compressed, efficient storytelling, embellished by his gritty and expressive line work. ...[I]t evokes the mood of such stellar cinematic hard-boiled noir crime dramas as Aldrich's Kiss Me Deadly and Boorman's Point Blank.

— Don O'Mahony - Irish Examiner

Tardi has a much deserved reputation not only as a master of the pen, but also as a meticulous researcher, I'm confident that Manchette would praise Tardi's Run Like Crazy Run Like Hell as the outstanding book it is.

— Christopher Forsley - Popmatters

Tardi's relentlessly paced adaptation of Manchette's novel The Mad and the Bad presents readers with a fascinating noir tale that is as bleak as it is brilliant. ... Tardi (It Was the War of the Trenches) is a revered comics master in his native France, and his illustrations here tell us so much about how complex these characters are. The occasional juxtapositions of the cartoonish and the grotesque imbue the narrative with a grim, sardonic humor. Readers can expect the type of story promised by the title in this heart-pounding narrative. [Starred review]

— Publishers Weekly

Each page looks besmirched with the muck and grime of the French countryside -- or, eventually, with brains, blood and gnarly bits of bone. The book's centrepiece, a chaotic chase scene through a crowded town square and supermarket, reads like a master class in comic-book storytelling. This is a fine, tough, bloody one.
— Sean Rogers - The Globe and Mail

Run Like Crazy Run Like Hell is a fine introduction to the works of both Tardi (the cartoonist) and Manchette (the novelist), ...[and] has the immediacy and tense back-breaking sense of dread and revulsion that should be familiar to Manchette fans. For Tardi fans, here's yet another example that the old master has lost little – if any – of his trademark flair for crafting deep, thrilling, and often violent entertainment.

— Nathan Evans - Popzara

I like my crime novels like I like my coffee: very dark and very bitter. I loved Run Like Crazy Run Like Hell... This astonishing graphic novel is a bleak noir story of murder, gunplay, betrayal, corruption, the true depraved reality behind seeming idyllic fronts, and so much more. … Run Like Crazy is also a hell of a lot of fun. Drawn beautifully by the genius Tardi with his usual hand-hewn combination of looseness and fascinating specificity, what comes through more than anything are two things: the vividness of these horrible characters, and the arbitrariness of the events that unfold. … By the end of this book I was gasping with excitement.

— Jason Sacks - Comics Bulletin

The whole work drips with style and that hardboiled 70s crime feeling – you could easily imagine this with a suitable soundtrack as a storyboard for a Tarantino movie. It cracks along at a great pace... A fabulous, hard, tough crime fiction ride, perfectly depicted by Tardi.
— Joe Gordon - Forbidden Planet International

...[A] fantastic series of chase scenes, reversals, close calls on both ends, betrayals and surprising new allies. Through it all, Tardi's figure work, fluid panel-to-panel transitions and mastery of using backgrounds to enhance rather than detract from a narrative dominate the story.
— Rob Clough - High-Low

The maniacs in this comic don't even give you a chance to breathe, it just ramps up and starts rolling.
— A.J. McGuire - Panel Patter
Fantagraphics, 9781606996201, 104pp.
Publication Date: February 8, 2015
About the Author
Doug Headline is the son of Jean-Patrick Manchette, and a prominent French journalist , editor, writer and director.

Tardi is a pioneering, internationally award-winning European cartoonist. His Adele Blanc-Sec series was adapted into a feature by Luc Besson, and the animated film April and the Extraordinary World was inspired by his cartooning. He lives in Paris with his wife, the singer Dominique Grange, and their cats.

The Marseilles-born Jean-Patrick Manchette (1942-1995) authored ten short, tough-minded, highly acclaimed crime novels, as well as a multitude of other books, screen- and teleplays, magazine columns, and translations of American crime and science fiction novels. A lifelong comics fan, he also wrote the hardboiled graphic novel Griffu for Jacques Tardi in 1978, and in the late 1980s, was selected to translate the French edition of Watchmen.
or
Not Currently Available for Direct Purchase