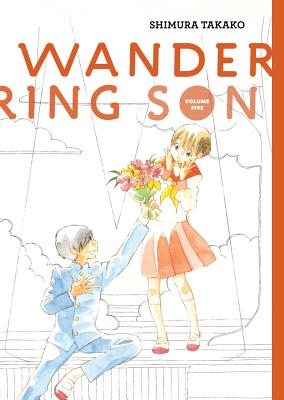 Wandering Son
Volume Five
Hardcover

* Individual store prices may vary.
Other Editions of This Title:
Hardcover (1/18/2014)
Hardcover (9/7/2014)
Hardcover (6/7/2015)
Hardcover (6/15/2013)
Hardcover (7/16/2012)
Hardcover (1/2/2012)
Hardcover (7/5/2011)
Description
In the latest volume of this gentle manga, new gender-reinforcing school uniforms cause drama at the junior high school entrance ceremony!
In the latest volume of the acclaimed series about transgendered kids exploring their unfolding identities, we've reached a big event; the junior high school entrance ceremony. The boys wear black uniforms with stand-up collars based on mid-19th century European military uniforms and the girls wear navy blazers, tan skirts, and red ribbon neckties. Enter our heroes; Nitori-kun is forced to wear a boy's uniform while Takatsuki-san has to wear a girl's! Yet one girl—Sarashia Chizuru— draws stares, whispers, and pointed fingers, because this long-haired beauty is wearing a boy's uniform. Both Nitori-kun and Takatsuki-san are awed by the girl's courage, but Takatsuki-san is particularly vexed by their own faintheartedness. They envy more than a few other students who experience such liberty in wearing either uniform and ponder what it ultimately means about themselves. Envy and jealousy are prominent themes in
Volume 5
: Chiba-san is jealous of Takatsuki-san, for whom Nitori-kun still carries a tortch. Maho envies Anna-chan's professionalism as a model. And Chii-chan's loyal sidekick, Shiri Momoko, is intensely jealous of anyone in whom Chii-chan shows the slightest interest. And so our protagonists set off on the journey to adolescence….
Praise For Wandering Son: Volume Five…
...[B]eing a trans woman means I'm used to seeing awful depictions of my lived experiences. I do not see me, and that is when I see trans women or trans people in general depicted at all. Until [Wandering Son]... I had never seen my own narrative depicted. At least not closely or accurately.

— Kat Callahan - Jezebel - ROYGBIV
Fantagraphics, 9781606996478, 200pp.
Publication Date: November 2, 2013
About the Author
Shimura Takako lives in Tokyo, Japan.

Rachel Thorn is from in Lansdale, Pennsylvania. She is a cultural anthropologist, writer, and an associate professor in the manga department at Kyoto Seika University. Her translations include the New York Times Best-Seller Nijigahara Holograph by Inio Asano and Hayao Miyazaki's Nausicaä of the Valley of the Wind.