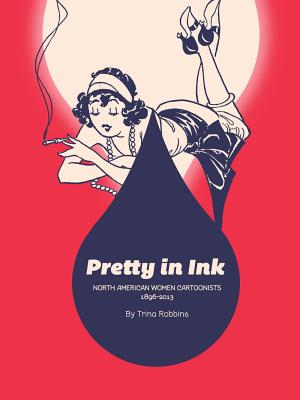 Pretty In Ink (Paperback)
North American Women Cartoonists 1896-2013
Fantagraphics, 9781606996690, 200pp.
Publication Date: December 6, 2013
* Individual store prices may vary.
Description
Trina Robbins updates her seminal historical survey of female cartoonists for the 21st century — when female cartoonists such as Alison Bechdel, Lynda Barry, and Kate Beaton are at perhaps their highest profile.
With the 1896 publication of Rose O'Neill's comic strip
The Old Subscriber Calls
, in
Truth Magazine
, American women entered the field of comics, and they never left it. But, you might not know that reading most of the comics histories out there. Trina Robbins has spent the last thirty years recording the accomplishments of a century of women cartoonists, and
Pretty in Ink
is her ultimate book, a revised, updated and rewritten history of women cartoonists, with more color illustrations than ever before, and with some startling new discoveries (such as a Native American woman cartoonist from the 1940s who was also a Corporal in the women's army, and the revelation that a cartoonist included in all of Robbins's previous histories was a man!) In the pages of
Pretty in Ink
you'll find new photos and correspondence from cartoonists Ethel Hays and Edwina Dumm, and the true story of Golden Age comic book star Lily Renee, as intriguing as the comics she drew. Although the comics profession was dominated by men, there were far more women working in the profession throughout the 20th century than other histories indicate, and they have flourished in the 21st. Robbins not only documents the increasing relevance of women throughout the 20th century, with mainstream creators such as Ramona Fradon and Dale Messick and alternative cartoonists such as Lynda Barry, Carol Tyler, and Phoebe Gloeckner, but the latest generation of women cartoonists—Megan Kelso, Cathy Malkasian, Linda Medley, and Lilli Carré, among many others. Robbins is the preeminent historian of women comic artists; forget her previous histories:
Pretty in Ink
is her most comprehensive volume to date.
About the Author
Retired underground cartoonist and current comics historian Trina Robbins has been writing graphic novels, comics, and books for almost half a century. Her subjects have ranged from Wonder Woman and The Powerpuff Girls to her own teenage superheroine, GoGirl!, and from women cartoonists and superheroines to women who kill. She's won an Inkpot Award and was inducted in the Will Eisner Hall of Fame at the San Diego Comic-Con. She lives in a moldering, 100+-year-old house in San Francisco with her cats, shoes, and dust bunnies.
or
Not Currently Available for Direct Purchase