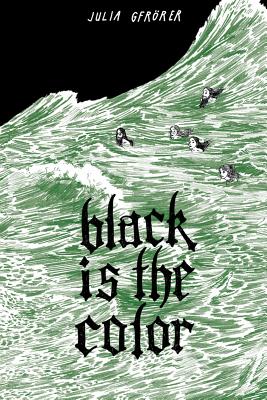 Black Is The Color
Paperback

* Individual store prices may vary.
Description
In this graphic novella, a wicked mermaid lures a sailor to his doom.
Black is the Color
begins with a 17th-century sailor abandoned at sea by his shipmates, and as it progresses he endures, and eventually succumbs to, both his lingering death sentence and the advances of a cruel and amorous mermaid. The narrative also explores the experiences of the loved ones he leaves behind, on his ship and at home on land, as well as of the mermaids who jadedly witness his destruction. At the heart of the story lie the dubious value of maintaining dignity to the detriment of intimacy, and the erotic potential of the worst-case scenario. Julia Gfrörer's delicate drawing style perfectly complements the period era of
Black is the Color
, bringing the lyricism and romanticism of Gfrörer's prose to the fore.
Black is the Color
is a book as seductive as the sirens it depicts.
Fantagraphics, 9781606997178, 72pp.
Publication Date: December 20, 2013
About the Author
Julia Gfrörer lives on Long Island, where she maintains an extensive collection of black cardigans. Her work has appeared in Kramer's Ergot and Best American Comics. She pronounces her name "gruh fare" but you can say it however you like.