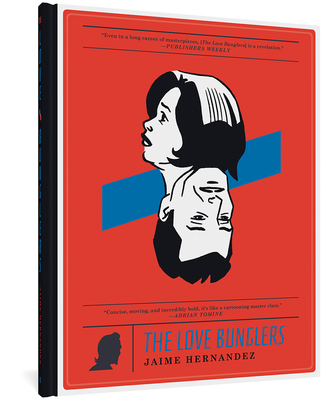 The Love Bunglers (Love and Rockets)
Hardcover

* Individual store prices may vary.
Description
Contains the critically acclaimed and award-winning short comic "Browntown," as well as other stories chronicling the life and loves of Maggie.
Featuring Jaime Hernandez's longtime Love and Rockets heroine Maggie, The Love Bunglers explores the suppression of her family history. Because these secrets can't be dealt with openly, they weigh heavily on her mind. But Maggie's ability to navigate and find meaning in her life — despite losing her culture, her brother, her profession, and her friends — is what's made her a compelling character. After a lifetime of losses, Maggie finds, in the second half, her longtime off-and-on lover, Ray Dominguez. In taking us through lives, deaths, and near-fatalities, The Love Bunglers encapsulates Maggie's emotional history as it moves from resignation to memories of loss, to sudden violence (a theme in this story) and eventually to love and contentment. Hernandez has been following his longtime character, Maggie, around for several decades, which lends this book a powerful emotional resonance.
Praise For The Love Bunglers (Love and Rockets)…
Skillfully merging tragedy and serendipity, Hernandez brings [Maggie and Ray's] intertwining stories to a satisfying, if hard-won, culmination. The simplicity of Hernandez's page designs and the elegant economy of his drawing style belie the thoughtful sophistication of his storytelling, exemplified by a two-page spread that brilliantly encapsulates two entire lifetimes in just 18 panels. ...[A] heartbreakingly satisfying achievement that leaves the door wide open for further chapters in this most rewarding and accomplished of serialized comics. (Starred Review)

— Gordon Flagg - Booklist

…[A]s irresistible as ever, peeling back the years to reveal a lifetime of powerful relationships, rejections, infidelities, and adventures.
— Calvin Reid - Publishers Weekly

Jaime Hernandez keeps hitting home runs. It's almost like he doesn't know how to stop. … You don't have to have ever read a Hernandez Bros. story before to appreciate the achievement, but for those who have, it's impossible to reach the end without shedding serious tears. It's that good, heartbreaking, and breathtaking in even measure. It's just about perfect, and you can put that on the book flap.
— Tim O'Neil - The A.V. Club

The culmination of an achingly long will-they/won't-they relationship between Hernandez's signature characters, Hopey and Ray, this is a perfectly drawn, decades-spanning masterpiece by comics' most unblinking and clear-eyed romantic.
— Sean Rogers - The Globe and Mail

[Hernandez's] writing is as funny and candid as ever. His drawing is -- always has been -- just a dream. It seamlessly combines conventional representation and cartoony exaggeration -- often in the same panel. But it's the depth that you drown in, the sense that we are swimming in the deep waters of the heart here.
— Teddy Jamieson - The Herald (Scotland)

Hernandez's understated dialogue and sparse, bold lines make every panel of his recent work sing and sting, and midway he drops the floor out from beneath his readers' feet. The narrative strands of his characters' histories converge, as the grand story he's been drawing for 30 years glides to its conclusion — the most heartbreaking ending possible that's still, technically, a happy ending.
— Douglas Wolk - The New York Times

Since 1981, with pitch-perfect dialogue and impeccable draftsmanship, Hernandez has conveyed more entertaining (and poignant) drama than just about any contemporary filmmaker or novelist. There's a word for what this guy is doing with his life's work — can someone give him a MacArthur grant and make it official?
— R.C. Baker - Village Voice

I don't really understand why the material of Love and Rockets isn't widely regarded as one of the finest pieces of fiction of the last 35 years. Because it is.
— Neil Gaiman

One theme of The Love Bunglers is what people don't talk about, to protect themselves or their loved ones, and the great unspoken things from the series, both secret and open, finally rise to the surface here, until -- in an extraordinary silent sequence -- we see the whole historical shape of an emotional truth that Hernandez's characters have never fully acknowledged before.

— Douglas Wolk - ComicsAlliance

The story moves masterfully between time periods, compressing and dilating key moments so that you're never sure what's around the next panel. It packs an emotional wallop even if you're not familiar with the characters.
— Jeff Jackson - Electric Lit

This is a new work by Love and Rockets' Jaime Hernandez. Really, that's probably all you need to know... [T]his new chapter... [is] a story told with warmth but also honesty. Time... has done nothing to [wear down] Hernandez's phenomenal storytelling skills.

— Rob Bricken - io9

This book represents Jaime's best work, and is one of the best comics I've ever read.
— Colleen Frakes - Los Angeles Review of Books

The culmination of an achingly long will-they/won't-they relationship between Hernandez's signature characters, Hopey and Ray, this is a perfectly drawn, decades-spanning masterpiece by comics' most unblinking and clear-eyed romantic.
— Sean Rogers - The Globe and Mail

All of the elements are woven together masterfully. A few chapters about the characters as kids added to the depth of the story by providing motivation for how they interacted as adults. ... Hernandez's female characters have a mix of body types that is rarely seen in comics. They're fat, thin, athletic, young, old, and everywhere in between. What's amazing is that they're drawn in a way that expresses their beauty and shows his love for them all.
— Gene Ambaum - Unshelved

The Love Bunglers... is one of the most entertaining and honest stories about how we go about our lives, bungling up love. ... This is storytelling and character work done so well you'll wonder if they are in fact alive and possibly right next door.

— David Brooke - Adventures in Poor Taste

So good. ... This book hits my comic receptors like enchiladas on my plate at a family party. The writing is nuts with how effortless it tells a story. There are no exposition dumps, there are no wasted scenes, no clunky dialogue. It's amazing. And the art is perfect. ... It's a very Hispanic story told by a master Hispanic creator which informs every reason you should read this comic.
— Kris Saldaña - Panels

The most moving sequence in any book I've read this year is entirely wordless. ... As ever with Hernandez, it's funny, complex, unsettling and beautifully drawn. It's also a reminder that a graphic novel can do things that a novel told in straightforward prose simply can't.
— Anna Carey - The Irish Times
Fantagraphics, 9781606997291, 104pp.
Publication Date: May 17, 2014
About the Author
Jaime Hernandez is an internationally acclaimed, award-winning (Will Eisner Hall of Famer; Harvey, Ignatz, and PEN Award-winner; L.A. Times Book Prize) cartoonist and a lifelong Los Angelean.
or
Not Currently Available for Direct Purchase