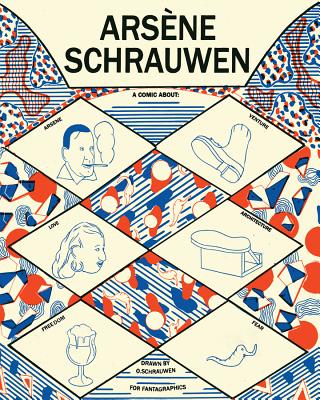 Arsene Schrauwen
Hardcover

* Individual store prices may vary.
Description
Utopia comes with a price in this European cartoonist's graphic novel debut inspired by his mid-century colonialist grandfather.
In 1947, the author's grandfather, Arsene Schrauwen, traveled across the ocean to a mysterious, dangerous jungle colony at the behest of his cousin. Together they would build something deemed impossible: a modern utopia in the wilderness — but not before Arsene falls in love with his cousin's wife, Marieke. Whether delirious from love or a fever-inducing jungle virus, Arsene's loosening grip on reality is mirrored by the graphic novel reader's uncertainty of what is imagined or real by Arsene. This first full-length graphic novel from the critically-acclaimed Olivier Schrauwen is an engrossing, sometimes funny, slightly surreal and often beautiful narrative.
Finalist, 2014 Los Angeles Times Book Prize – Graphic Novel/Comics
Shortlist, Slate's 2014 Cartoonist Studio Prize for Best Print Comic of the Year

Praise For Arsene Schrauwen…
…Arsene Schrauwen is one of the most complex, and simply best, comics released this year. …[It] uses simplified drawings, collage-like text and two colors (red and blue) to convey a narrative that moves between the real and the fantastic with grace and facility. The result is an experience both utterly original and strangely familiar, like a dream.

— Hillary Brown - Paste

The book is flat-out one of the most complex and interesting—visually, thematically, conceptually—comics of the last few years.... The Belgian cartoonist is the embodiment of the idea that cartooning is writing with pictures, and with Arsene he proves himself a better writer than basically everyone else working today.

— Shea Hennum - Paste

In this crackpot graphic novel from the historically minded and utterly original Schrauwen, the Belgian cartoonist imagines a fanciful history that slips the bonds of reality almost immediately. … The author's obsessions with infestation, death, mutation, and genitalia, scroll in a continuous waking dream set amid a Magritte-Dali landscape. [Starred Review]

— Publishers Weekly

Occasionally, a creator kicks the comics-medium football not only over the goalposts but into another stadium entirely. Schrauwen's off-the-wall ode to his grandfather's life, love, and virus-induced mental walkabout -- rendered in burnt orange and cornflower blue -- is artistically simple but deeply symbolic. The whole book has the hallucinatory feel of a curious found item that inspires an uncanny anxiousness.
— John DiBello - Publishers Weekly

One of the very best graphic novels of the decade.
— Dan Nadel - The Comics Journal

I've found estimations like 'Roy Andersson remaking Fitzcarraldo as an X-rated children's comic' to be personally useful in conveying the unique tone of this Olivier Schrauwen original … I readily urge you deeper into this fascinating and disquieting experience.

— Joe McCulloch - The Comics Journal

This book is great and weird and frustrating and beautiful... Arsene Schrauwen is the best book of the year.

— Tom Spurgeon - The Comics Reporter

…Arsene Schrauwen reads like Conrad by way of Kafka, as drawn in pen and ink by the douanier Rousseau. Cockeyed, adventurous, and truly bizarre… Schrauwen's portrait of the impulse towards empire may not be rooted in actual history, but it does loopy justice to the garish and arrogant irrationality of the whole colonial enterprise.

— Sean Rogers - The Globe and Mail

This is a book of imagination and tale-telling.
— Joe McCulloch - American Book Review

[Schrauwen's] work, strange and surreal, bears the influences of many 20th Century comics, but with a distinctly contemporary voice. They're strange and moving, full of delusional characters, and show Schrauwen's skills a master storyteller.
— Alex Dueben - Comic Book Resources

As the book continues, …[it] becomes less an ironic comedy than a reflection on the distance of forebears from their descendants, and the absurdity of expecting one's legacy to not become absurd, especially when your story winds up being told by some noodly cartoonist. Sympathy for the devil? A final dodge into white romanticism? The duty of art to seek nuance? Alas, this excellent, declarative book cannot define everything for us.
— Joe McCulloch - ComicsAlliance

Ollie Schrauwen's new graphic novel Arsene Schrauwen, from Fantagraphics, is rich and fantastical, yet at the same time resolutely physical and sensual. It is a comic that provides much more than a story; reading it is an experience.

— Harris Smith - comiXology

Olivier Schrauwen's graphic novel Arsene Schrauwen is brilliant and unpredictable, and fantastic in every sense of the word.

— David Gutowski - Largehearted Boy

Arsène may or may not be a stand-in for the reader, but we certainly enter into his world through the book. Perhaps the point of the story is only to teach you how to read it. Is this what life is? That is what the sort of jokes Schrauwen tells seem to suggest.
— Brian Nicholson - The Comics Journal

While reading this graphic novel, I kept thinking, 'I can't believe how smart Oliver Schrauwen is.' Every page reveals an eccentric and original cartooning mind at work. … Taken together, [his] artistic choices make for an oddly moving way to tell an uncanny story, an epic surrealist adventure in architectural modernity, European colonialism, social idealism, and sexual perversion. One of my 'Three Best Books of 2014' — if not the best.
— Ken Parille - The Comics Journal

This is a staggering career achievement: a ramshackle, scatological, apocalyptic, scathingly satirical, and above all else hilarious story about the artist's grandfather and his experiences in South America. … Schrauwen somehow manages to top himself from chapter to chapter while adding in biting critiques of colonialism and gender roles.
— Rob Clough - The Comics Journal

Arsene never fails to engage emotionally as well as intellectually; it immerses you fully in a distinct and absurd world and forces you to engage with its inhabitants as if they were real people. Good god is Arsene Schrauwen a great comic.

— Shea Hennum - This Is Infamous

...Arsene Schrauwen is so unlike any other comic out there that it's absolutely worth a read.

— Gregory Paul Silber - Adventures in Poor Taste

...Schrauwen's canny project ... masterfully slips between recognizable emotions and genres.
— Jeff Jackson - Fanzine

Best narrative comic of the year, no questions asked.
— S*** Comics
Fantagraphics, 9781606997307, 256pp.
Publication Date: December 6, 2014
About the Author
Olivier Schrauwen was born in Belgium in 1977 and studied animation at the Academy of Art in Gent, and comics at the Saint Luc in Brussels. He currently lives in Berlin.