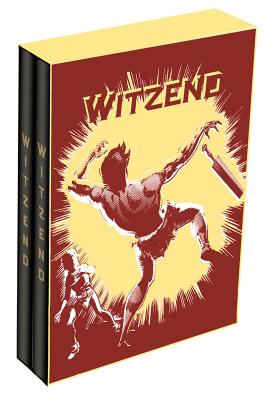 witzend (Hardcover)
Fantagraphics, 9781606997444, 608pp.
Publication Date: July 5, 2014
* Individual store prices may vary.
Description
This book collects one of the earliest (and most groundbreaking) indy-comic anthologies by influential creators such as Wallace Wood, Art Spiegelman, Frank Frazetta and many more.
When the formulaic constraints, censorious nature, and onerous lack of creator's rights in mainstream comics got to be too much for the brilliant cartoonist Wallace Wood, he struck out on his own with the self-published
witzend
. It became a haven for Wood and his fellow professional cartoonist friends where they could produce the kind of personal work that they wanted to do, without regard to commercial demands — and with friends like Frank Frazetta, Al Williamson, Reed Crandall, Ralph Reese, Archie Goodwin, Angelo Torres, Steve Ditko, Harvey Kurtzman, Bill Elder, Art Spiegelman, Don Martin, Vaughn Bodé, Jim Steranko, Jeff Jones, Howard Chaykin, Trina Robbins, Bernie Wrightson, and literally dozens more, it was bound to be a great ride! Now, Fantagraphics presents the complete run of
witzend
in this beautiful slipcased 2-volume set with a special introduction by Bill Pearson and a history by Patrick Rosenkrantz.
About the Author
Wallace Allan Wood (1927–1981) rebooted Marvel's Daredevil, designing the iconic costume that recently appeared on the smash hit Netflix series. He was one of the best and funniest cartoonists of the earliest iteration of Mad magazine and, thanks to his work on the EC Comics line, he is also widely considered one of America's greatest science-fiction cartoonists. With his magazine anthology witzend, he helped pioneer underground/independent comics publishing.

Steve Ditko continues to create comics in his studio in New York City.

Will Elder (Hall of Fame, 2003) was also known for a 45-year stint with Cracked magazine

and for being one of Mad's founding artists.

Archie Goodwin(1937–1998, b. Kansas City, Missouri) is best known as an editor and writer for Warren, DC, and Marvel Comics. He co-created, with Walter Simonson, Luke Cage and Spider-Woman, and rebooted the Vampirella character. He also wrote newspaper comic strips, notably Star Wars, drawn by Al Williamson. He won multiple awards and authored the first graphic novel on the NYT Best-Seller list.

In addition to his pioneering work on the "serious" EC war comics, Harvey Kurtzman (1924-1993) created the all-time greatest satirical comic (with Mad), the most widely-read adult comic strip (with "Little Annie Fanny" in Playboy), and one of the earliest graphic novels (with the 1959 The Jungle Book).

Art Spiegelman is the Pulitzer-Prize-winning creator of Maus. He's also a groundbreaking editor, whose recent projects include the Toon books line of graphic novels for school libraries, as well as the 1980s seminal comics anthology Raw, which introduced cartoonists like Charles Burns and helped kickstart the alternative comics movement. He's long been associated with the New Yorker.

Al Williamson (b. 1931, d, 2010) was a comics artist best known for his work on EC's Weird Science and Weird Fantasy comics titles (and, later, Creepy and Eerie, comics magazines that featured EC alumni). He also adapted Star Wars into comics, and worked on the newspaper strips Flash Gordon and Secret Agent X-9, both creations of Alex Raymond. He also inked various Marvel superhero comics, and was inducted into the Will Eisner Hall of Fame in 2000.
Praise For witzend…
Boxed together in a deluxe two-volume set, here are the irascible voices of a medium far more outré than Hollywood blockbuster movies.
— Carlo McCormick

...[T]his reproduction of witzend serves, on the whole, as an important record of the first flowerings of a more robust, independent comics scene.

— Hillary Brown

witzend is a time capsule from an essential period in history for both the United States and the comic book medium, showing how the seeds of change planted by the counterculture movement took root in art … and collecting the anthology in this elegant package is a wonderful way of paying tribute to its legacy.

— Oliver Sava

Witzend was a brilliant comic... It's a time capsule of what the best creators in the business could produce when they were their own editors. Fantagraphics did a great job restoring and collecting every issue in its original glory in a beautiful 2-volume slipcase.

— Cameron Hatheway

...witzend is... notable for its historical value -- as a place that fostered young artists and encouraged established ones to take chances...

— Chris Mautner
or
Not Currently Available for Direct Purchase