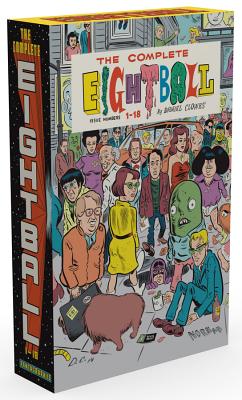 The Complete Eightball 1-18
Hardcover

* Individual store prices may vary.
Description
This is a two-volume, slipcased facsimile edition of the Daniel Clowes comics anthology; it contains the original installments of Ghost World, the short that the film Art School Confidential was based on, and much more.
Before he rose to fame as a filmmaker and the author of the best-selling graphic novels
Ghost World
,
David Boring
,
Ice Haven
, and
The Death Ray
, Daniel Clowes made his name from 1989 to 1997 by producing 18 issues of the beloved comic book series
Eightball
, which is still widely considered to be one of the greatest and most influential comic book titles of all time. Now, for the 25th Anniversary of
Eightball
, Fantagraphics is collecting these long out-of-print issues in a slipcased set of two hardcover volumes, reproducing each issue in facsimile form exactly as they were originally published. Included are over 450 pages of vintage Clowes, including such seminal serialized graphic novels/strips/rants as "Like a Velvet Glove Cast in Iron," "Ghost World," "Pussey," "I Hate You Deeply," "Sexual Frustration," "Ugly Girls," "Why I Hate Christians," "Message to the People of the Future," "Paranoid," "My Suicide," "Chicago," "Art School Confidential," "On Sports," "Zubrick and Pogeybait," "Hippypants and Peace-Bear," "Grip Glutz," "The Sensual Santa," "Feldman," and so many more.
Praise For The Complete Eightball 1-18…
It's stunningly gorgeous, and Fantagraphics went all out to create a package that will please people like me who read 
Eightball
 in its single issue format as well as people who are new to his early work.
— Mark Frauenfelder - Boing Boing
Clowes offset cynicism with sympathy as he cast an outsider's eye on members of society some might classify as 'the dregs.' As the anthology developed, Clowes proved himself a master of the short story in comics form…
— Jake Austen - Chicago Tribune
If you're new to Clowes, know that this is where 
Ghost World
 came from. Go lock yourself in your geek dungeon and read the whole thing right now.
— Melissa Maerz - Entertainment Weekly
Some two decades on, [these comics] are a fascinating time capsule from another age. Clowes strove to capture the America he saw around him -- he drew a place riddled with obsessive slackers, kitsch Americana, caustic femme fatales, sweaty ratfinks, exhausting culture snobs, and magnificently, pointlessly belligerent nerds. The series is as relevant a snap shot of America's 90s Generation X as the music of Kurt Cobain, the writing of Douglas Coupland and the films of Kevin Smith.
Eightball
defined the zeitgeist, and in doing so, redefined the place of the comic book in popular culture.
— Ian McQuaid - i-D
For a minute, forget there's anything significant about The Complete Eightball. Forget that it contains the seminal works of one of the greatest artists in modern comics, unexpurgated for the first time since they were penned in the '90s. ... Instead, consider The Complete Eightball as an object. What an object it is! A shiny, slick, candy-colored brick... The overall effect is visually luscious and existentially disconcerting.
— Etelka Lehoczky - NPR Books
When I first encountered these acerbic, grotesque, empathetic stories, they were part of a 'comic book' that eviscerated the medium. The feeble, self-deluded, and desperate were Clowes''''s early targets, but his worldview soon became less misanthropic and more painfully observant. Now elevated to a deluxe slipcased pair of hardcovers..., these famed stories—''Ghost World,'' ''Art School Confidential,'' and ''Like a Velvet Glove Cast in Iron'' among them—can be enjoyed in the context of Clowes's development into a master cartoonist
— Heidi MacDonald - Publishers Weekly
...Clowes is the Man. And as if to nail that title down, we now have a two-volume hardcover edition of 
The Complete Eightball 1–18
, which originally ran from 1989–2004. It's an early but by no means immature work, establishing Clowes as perhaps the best exemplar extant of the underground-comic sensibility of the late 20th century....
Eightball
 is not just a record of one obsessive's tussle with the comics medium, but a kind of history of that medium as it comes to maturity.
— Roger Downey - Seattle Weekly
...560 pages of comic brilliance. The series' oddballs are not unlike people we might encounter. But they could only exist in Clowes' wonderfully strange and wonderfully human world.
— John McMurtrie - SFGate
…[T]he 18 issues collected in these two hardcover volumes offer a comprehensive portrait of a cartoonist working through creative and personal frustrations to develop his signature voice and style.
— Oliver Sava - The A.V. Club
Daniel Clowes writes either the funniest sad comics or the saddest funny comics in the world.
— Sam Thielman - The Guardian
Clowes, a respected comic-book creator, 
New Yorker
 cover artist and occasional film-maker, ...creates beautifully drawn, funny, melancholic, bizarre stories about isolated teenagers, science-fiction beatniks, overbearing oafs and weird small towns. ... His work is alternatively hilarious, satirical, fantastical and heartbreaking. He specialises in askew realism, gritty fantasy and existential loneliness.
— Patrick Freyne - The Irish Times
With an acrid storytelling voice and a clean, spare drawing style, Mr. Clowes used
Eightball
... to skewer pop culture, spin surrealistic horrors and sympathetically portray youth adrift.
— Ben Sisario - The New York Times
Daniel Clowes is… widely considered a one-man embodiment of nineties cool.
— Françoise Mouly and Mina Kaneko - The New Yorker
...
Eightball
... [was a] stunningly smart and innovative comic that did what almost no other comic seemed able to do at the time: enter the culture of people who didn't like comics. 
Eightball
 became one of the essential comedic touchstones of 1990s culture... the gorgeous new 
The Complete Eightball
collection... attends the 25th anniversary of [Clowes's] masterpiece...
— Sean Nelson - The Stranger
...[The] tales in 
The Complete Eightball
reveal that during the 1990s no one was having more nasty fun than Daniel Clowes. ... You might think Clowes has contempt for himself, his characters, and his audience. And you might be right. But his retro graphics style moves beyond eye candy to convey genuine emotion in his f***ed-up characters, achieving something rather brilliant: unpleasant but irresistible entertainment.
— R.C. Baker - The Village Voice
This is a masterwork in its ability to stay with stories, telling them over years, or simply telling a fantastic story that touches on something in the reader's core. The stories within vary so much there's bound to be a gem in here that will capture your imagination.
— David Brooke - Adventures in Poor Taste
Great art, great writing, inventive stories, and very disturbing nightmares… Do I need to describe the indescribable to you? Suffice to say his stories have everything you could possibly want from comic books and a lot of things you don't. So much misanthropic joy! ...I can't imagine what sitting down with all of those issues compiled into one book could do to your brain… probably good things. If you like surrealism, humor, self-hatred, and living in the world with nothing making sense, then this is the book for you! If you don't like those things, you might like it even more.
— Sonia Harris - Comic Book Resources
Eightball
 is considered one of the most influential titles of all time, and with the loving care this reprint has received, it's easy to see why.
— David Gutowski - Largehearted Boy
...
Eightball
[was] perhaps the most important American alternative comic to emerge from the twentieth century. ... As the home of Clowes's first six award-winning graphic novels — comics that helped garner him a 2011 Pen Center Award for Outstanding Body of Work in Graphic Literature — 
Eightball
 earned a place in the pantheon of Great American Comics.
— Ken Parille - The Comics Journal
...
The Complete Eightball
... gives readers old and new a chance to reassess the great cartoonist's work, allowing them to trace back the roots of later masterpieces like 
Ice Haven
 and 
The Death-Ray
, and to enjoy some of the caustic, experimental, and just plain strange short pieces that Clowes later largely left behind, at least for now...
— Tim Hodler - The Comics Journal
This is almost certainly one of the half-dozen must-haves of the year, the comic-book formatted issues of one of the great series of all time, featuring the work of Daniel Clowes. The packaging is super thoughtful and thought out, and of course the comics are great.
— Tom Spurgeon - The Comics Reporter
There's no doubt that this is one of the finest comic releases of the year. Clowes has a unique voice, and this is simply brilliant work, wickedly funny and flawlessly presented. Save up for this; it's unmissable.
— Pete Redrup - The Quietus
Read in this collected anthology form,
Eightball
takes on the properties of an alternate universe, one where you can get legal advice in a bathroom, get your eye sockets cleaned by prawns, have a child write a blockbuster movie for you and many more strange, disturbing and hilarious things. But what makes
Eightball
great is the stories.... [and] broken up in
The Complete Eightball
they become... glimpses of a strange world into a pure strain of humanity. This is an essential purchase.
— Henry Dykstal - The Lawrentian
Fantagraphics, 9781606997574, 454pp.
Publication Date: July 4, 2015
About the Author
Daniel Clowes is a celebrated graphic novelist, Academy-Award nominated screenwriter, and frequent cover artist for The New Yorker. He is a multi-Harvey, Eisner, and Ignatz Award Winner, and his papers have been acquired by the University of Chicago library. His most recent book, Patience, has been translated into nineteen languages, and his books and comics have won numerous awards, including a PEN America Literary Award and over a dozen Harvey and Eisner Awards. As a screenwriter, he has been nominated for an Academy Award and written the films Ghost World (with Terry Zwigoff), Art School Confidential, and Wilson. A retrospective of his work, Modern Cartoonist, debuted in 2012, appearing at the Museum of Contemporary Art in Chicago, the Oakland Museum, and the Wexner Center. He lives in Oakland, California, with his wife and son.